Magazine readership down 2.7%, but men's titles plummet
Sports and men's magazines bore the brunt of the magazine industry's woes in the latest round of readership figures from Roy Morgan Research.
The disparity between the fortunes of men's and women's titles continues to develop for publishers, with the general men's category down 19.8% and the men's lifestyle category down 16.0% year on year, while women's lifestyle dropped only 3.1%, mass women's was down 2.3% and women's fashion grew 2.0%.
ACP's men's titles People fell 17.4% and Picture slid 26%, and NewsLifeMedia's GQ fell 36.5%, contributing to the fall of the men's category. In the women's, Morrison Media's Frankie was a strong performer posting an increase of 39.1%, ACP's Grazia rose 24.4% and The Australian Women's Weekly grew 7%, to extend its market lead with 2,348,000 readers nation wide. ACP's NW fell 17.3%. and Woman's Day dropped 7%, but still retained second place in terms of overall readership.
Other poor performing categories in an industry that declined 2.7% overall were TV, with a drop of 23.4%, sports, down 21.4%, and motorcycle, down 18.7%. Along with women's fashion, the only other categories to record an increase were computing, gaming and information technology, up 4.4%, and music and movies, up 10.3%.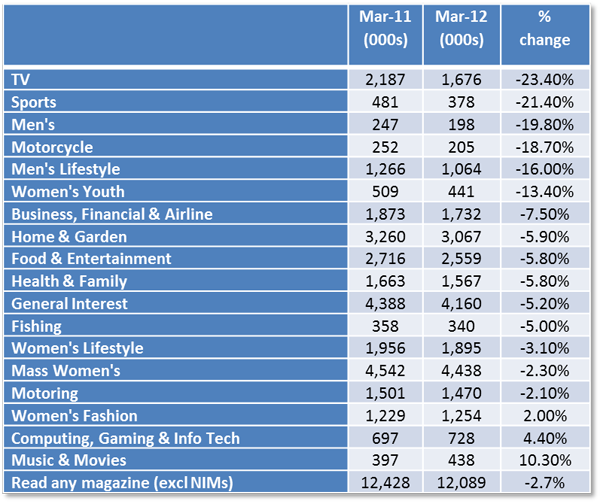 Overall, 87 publications saw a decline in readership compared to 42 who saw an increase. The worst performers were Virgin Australia Voyeur, down 39.5%, GQ, down 36.5%, Foxtel Magazine, down 36.3%, and FHM, down 29%.
Top 20 by decrease in readership
Strong performers for March 2012 included Game Informer, up 68.2%, Australian Traveller, up 54%, Frankie, up 39.1%, Australian Geographic, up 26%, and The Week, up 24.5%.
Top 20 by increase in readership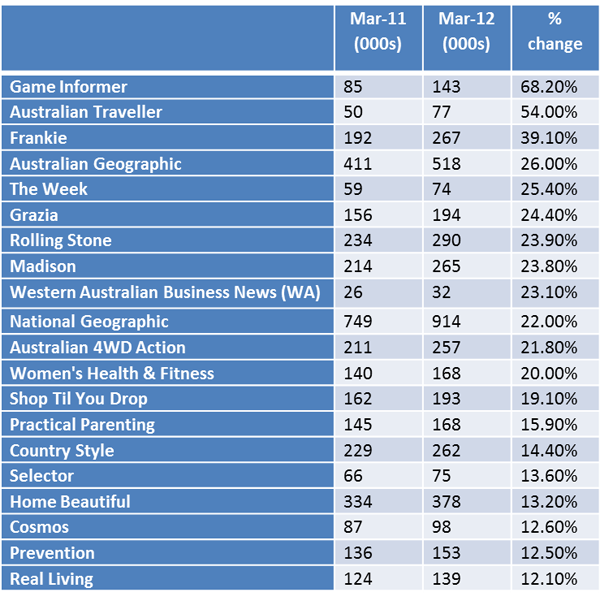 According to forecasts from Boston Consulting Group (BCG), magazine revenue is expected to shrink by 3.7% to $2115 million between now and 2015, with revenue from online delivery set to be the main growth area, predicted to jump 376% to $238 million.
Read: Marketing's coverage of BCG's forecasts for all media types.