Marketing to marketers is the new business conundrum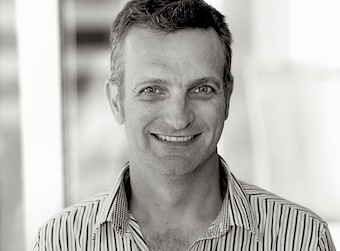 In this guest post, Rob Morrison, creative director at OgilvyOne, tracks the trend towards you, the marketer, being the target audience on briefs.
It's a fable that would make Aesop proud – like a modern day 'Wolf in Sheep's Clothing.' Except now the wolf is not a mystery to us. We know the wolf very, very well.
For years, marketers were agencies' clients. They were responsible for saying 'yes' or 'no' to our strategy, creative and production work. But they were never, ever the target audience on a brief.
Until now.
More and more, the CMO is becoming the key decision-maker in business. Not just which agency to choose but which IT system, which distribution channel, even which building to rent.
Of course there's lots of reasons for that – the final acceptance of customer-centricity in the boardroom, the high-speed interconnectivity of customers, and that everything decision has an affect on the brand.
So now, when faced with a target audience that includes Mark Buckman, Karen Ganschow and Glen Thomas, what do you do?
Here's somewhere to start.
1. Forget every trick.
Marketers are trained in the psychology of business. True, they're used to executing against it not receiving it. But it means they can smell inauthenticity faster than the rest of the population.
So don't be inauthentic.
Forget screaming savings if you've manipulated the numbers. Forget offering faster implementation, if you can't deliver. Forget rounding down prices, they know $1999 is $2000. Forget any tactic with a shred of exaggeration, amplification or manipulation.
If you can't walk it, don't talk it.
2. Find their pain
A CMO I worked with once said the rest of the business viewed marketing as 'business colouring in' – fluffy, inaccurate, hit-and-miss.
Not now.
Now CMOs are responsible for drawing the lines for business. And, although that's exciting, the responsibility can weigh heavy. They are now having conversations they've never had before – they need to help the CIO choose a new customer management solution. They need to work with the CFO on a pricing model based on 'prepared to pay' not 'cost-plus'. They need to help the CHRO train new staff so they are brand literate from Day One.
So, when communicating with senior marketing executives we need to empathise. We need to make their lives easier. Provide them with utility for navigating these new conversations. Help them understand that the rest of the C-suite needs them to lead.
3. Location, location, occasion.
CMOs are just like the rest of us – 100% reliant on their mobile devices. Show me a CMO without an iPad and I'll show you someone who's retracing their steps to find a lost device.
True, mobile marketing isn't new. But we've been missing one of the most powerful uses of the medium.
Yes, we can talk to CMOs where they are. But we can also control when. Location check-ins, wifi sponsorships, lift and lobby with time dependant creative. They're all opportunities to find different and relevant way to talk to CMOs when they're ready to hear from us.
4. Play to ego.
Last year I wrote a B2B point of view entitled 'Business people are people too'. In that I talked about ego as a lever to at least start conversations with any business audience. Create something just for them – a conference timetable, a keepsake, a restaurant booking. Anything to make them feel important.
If it's true for business people, it's particularly true for CMOs.
They make a million high-powered decisions every day. They have staff that they trust (and maybe some they don't). They have increasing political pressure from the rest of the C-Suite. Find a way to make them feel good. Special. Appreciated.
5. When in doubt, ask.
The single biggest strength agencies have in this space is we know CMOs really well. They were, are and always will be our clients.
So, if you need to pressure test a strategy, a tactic or an idea, just ask yourself: "What would Mark Buckman think? Or Karen Ganschow? Or Glen Thomas?" Chances are you already know the answer.
Just make sure you're talking to the wolf.