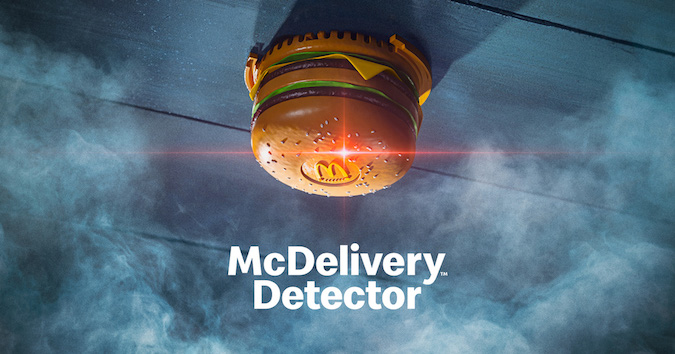 We've all made a cooking faux pas in the past. Burnt the chicken or left the rice in too long. The dreaded sound of a fire alarm when you've zoned out can mean dinner is spoiled. But, thanks to McDonald's, not for long.
McDonald's in the Netherlands is keeping an eye out for its customers. In a new campaign, the fast food chain is getting its least culinary capable consumers to show off their kitchen faux pas. The winners (or losers) will be the recipients of a McDonald's smoke detector. 
Asking app users to send in pictures of failed foods, the worst dishes will win a McDelivery detector. The device looks like the classic Big Mac. But, that's not all. It also triggers an order to the closest McDonald's if it detects smoke. 
So, if you've been distracted by a call, sucked into a TV show, or just had some general kitchen chaos, your dinner is still covered. After the smoke detector detects a disaster, a local McDonald's gets a text message with your order.
The McDelivery Detector is a fun way for Maccas to show off its technological capabilities. Of course it's no substitute for a real smoke detector. However, the stunt is a reminder that you're never too far from McDonald's.
As brand manager for McDonald's Netherlands, Terry de Graaff explained in a statement: "We want to give our guests Good Times with tasty products and smart technology news. The McDelivery Detector is a great gadget for people who have bad luck in the kitchen just a little more often than others. I'm already looking forward to the fantastic anecdotes about the biggest cooking blunders!"