Meat and Livestock Aus's app steaks claim to a Webby Award
Campaign: Beef Essentials iPhone app
Client: Meat and Livestock Australia
Agency: Reactive
Background
Meat and Livestock Australia (MLA) is a producer-owned company, working in partnership with industry and government to achieve a profitable and sustainable red meat and livestock industry in Australia.
MLA identified a gap in beef cooking knowledge with its younger audience and it wanted to bridge this using technology the audience uses at their fingertips. This tech-savvy generation were spending too much time on their iPhones, and not enough on the barbecue.
Objectives
In order to sell more beef, MLA wanted to help consumers cook better beef, every time. It approached Reactive, an award-winning digital agency, to develop a simple and easy to use iPhone app to cooking beef. Reactive's solution was the Beef Essentials iPhone app, a guide that would contain well-tested information for proven beef cooking expertise in the kitchen.
With the objective of launching the app before the start of summer in Australia, MLA wanted to capture the barbecue aficionados who would be dusting off their Webers for barbecue season.
It's hard to cook the perfect steak at home, especially when people have different preferences. Beef Essentials needed to break down the difficult experience of grilling and simplify it for the average consumer, and have user-friendly functionality, putting all the best resources of cooking beef into one on-the-go device. It needed to allow users to refer to it while at the butchers, in the supermarket, at the barbecue, in the backyard or even just in the kitchen.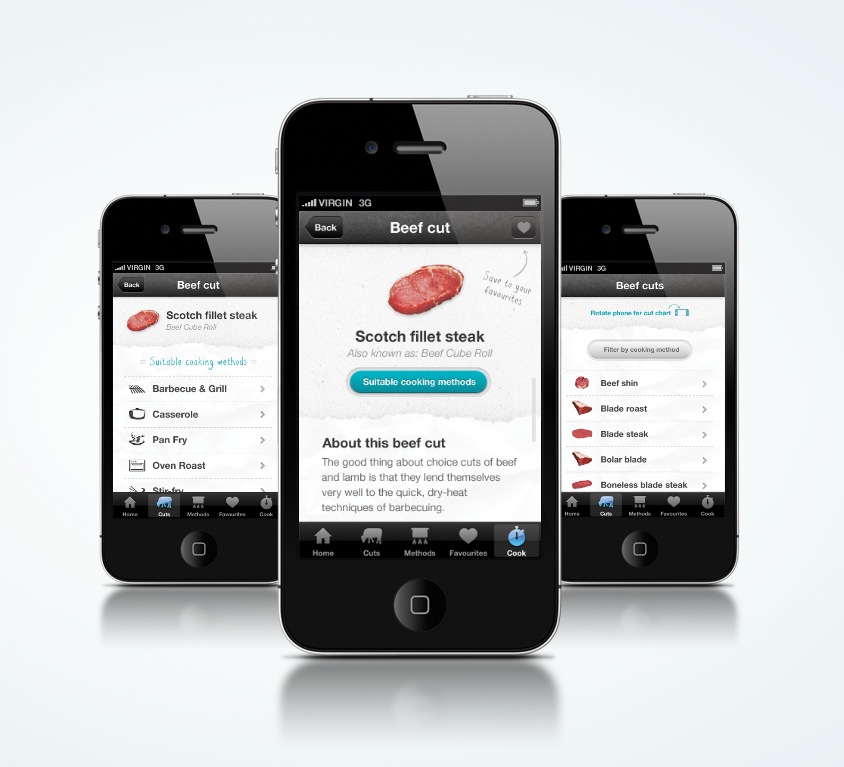 Strategy
The app featured a practical guide to selecting the right cuts of beef, the ability to choose from a range of cooking methods and advice on how best to cook with them.
This solution provided a useful tool for young beef lovers, something they can keep on their phone and use throughout the summer months. It is a classic 'branded utility' – although in the case of MLA the brand is simply beef. (It's probably the best ever branded beef utility.)
For the media and PR strategy, Reactive and MLA targeted iPhone app review sites, food websites and blogs. These markets allowed us to reach our target audience of young iPhone users, as well as foodies looking to perfect their beef cooking skills. Although there was no media budget allocated for PR, Reactive and MLA accomplished the objectives of reaching their target audience through their preferred publications.
When designing any content related to food, it's imperative that the imagery and style is of the highest quality. Nothing turns off an appetite faster than bad food imagery. To appease the foodies, the app focused on large, finely crafted visuals and minimised copy whenever possible.
Execution
Extensive testing with stakeholders and staff, family and friends was undertaken to ensure a wide range of consumers could use the app effectively.
The app includes:
high-quality photography of cuts of meat,
step-by-step processes and delicious meals to ensure following the instructions is as easy as possible,
an approachable user interface that's simple and icon-driven,
textured and tactile design to encourage touch navigation, and
a drawing of a cow that shows where the different beef cuts are found.
The Beef Essentials app starts by asking users to pinpoint their cut of meat on a cow diagram, offering the option to learn more about the cut if they wish.
The app helps them choose a cooking method for the selected cut, whether it be barbecue, pan fry (gas and electric), grill, slow cook, roast or stir fry. For the perfect grilled steak, the app asks users how thick the cut is, with an interactive ruler displayed, and provides instructions on when to rest and turn the beef. A fun cooking timer is then set with an alarm to precisely count down cooking time.
The app also features a queue system, handy for cooking several cuts of meat at the same time, and ensures that everyone gets a perfectly cooked piece of beef according to their preferred doneness.
The app has been designed for maximum ease of use, knowing that it will be used as a reference when shopping for meat, as well as when preparing it at barbecues and in the kitchen. All functions are easily manageable, with clear icons and visual cues for navigation.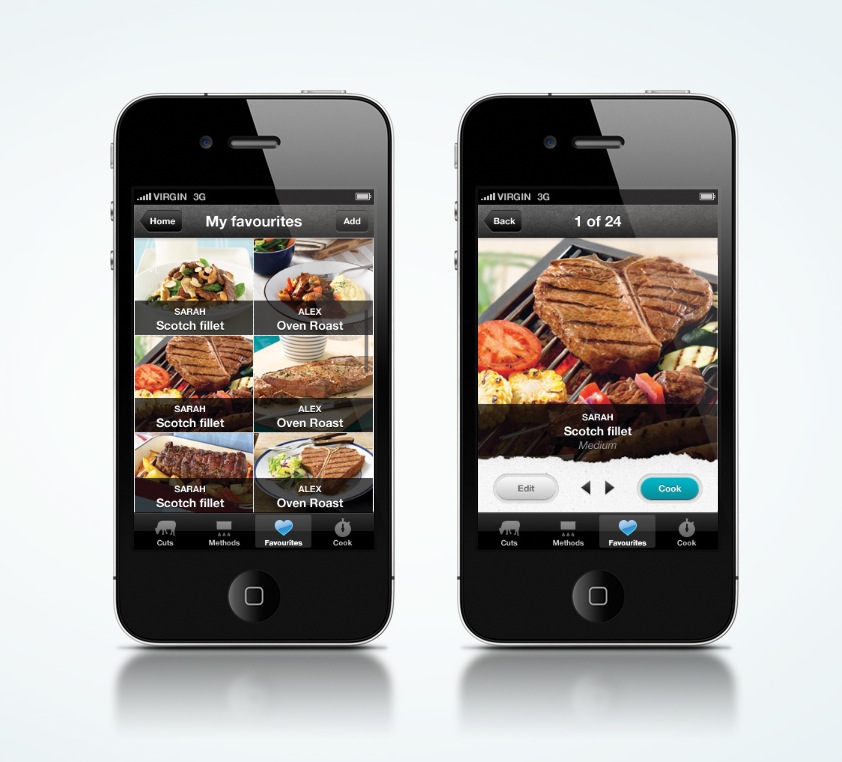 Results
MLA and Reactive won a Webby Award in 2012 for Beef Essentials in the 'Best Lifestyle Mobile Apps' category. The Webby Awards are the leading international honour for the world's best websites and digital projects and have been hailed as "the internet's highest honour" by The New York Times.
The Beef Essentials iPhone app was launched in October 2011 and has received over 6852 downloads. The app has a four out of five-star rating in the iTunes App Store.