Nine invites viewers to 'Jump-in' to social TV with new app
Nine Entertainment Co is set to launch a social TV app to rival Seven's Fango, as the campaign to make TV more social gathers steam.
The app, to be called 'Jump-in', will launch in mid-July to coincide with the Olympics and boast the potential for users to 'check-in' to a TV show or broadcast, similar to how social media users check-in to locations. While Spotify and social news reading apps have made it popular for consumers to broadcast their content consumption in social networks, the same behaviour is yet to take off for TV shows.
Nine will use the Olympics as a hook to encourage viewers to share their viewing behaviour, and as an entry into companion app behaviour. The app will also feature complementary content around the Olympics including interviews with the medalists, the full Olympics schedule, latest medal tally, results, news coverage and video highlights.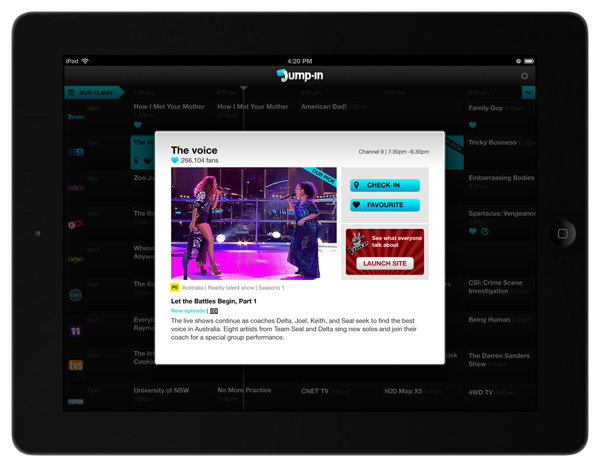 Group sales and marketing director, Peter Wiltshire, Nine Entertainment Co. says television audiences are showing huge enthusiasm to get directly involved in shows as they air. "We're already integrating social media and interactive elements into our TV line-up, and hit shows such as The Voice and The Block, have demonstrated it enhances the fans' TV experience," Wiltshire says.
Jump-in will initially be available for iPad, and then rolled out in stages across iPhone, Android and Windows platforms and as a web app. ninemsn will offer a range of advertising opportunities to connect advertisers with Jump-in users.