Media Monday: Frankie publisher Morrison Media sold, CarsGuide launches pay-per-view, Al Jazeera English brand campaign
In Australian media news this week, Frankie publisher Morrison Media sells to Pacific Star Network, CarsGuide.com.au launches its new pay-per-view model, Al Jazeera English launches a new brand campaign, APN Outdoor spends its first four days on the ASX, Nielsen releases its online ratings for October 2014 and SBS and ABC unveil their 2015 content. 
Radio company Pacific Star Network buys Frankie publisher
Pacific Star Network Limited (PNW) has acquired Frankie publisher Morrison Media for a reported $10 million.
PNW owns radio channels including Melbourne AM stations SEN and MyMP and digital-only radio stations Aussie and Koool.
Morrison Media, established in 1984, also publishes Smith Journal, Surfing Life, Slow Living and White Horses.
PNW says Morrison Media will add positive elements to its business including improving print circulation, growing online communities and diversification in audience and revenue.
"PNW believes there is a gap between small independent content businesses and large media groups. PNW aims to fill this gap by investing in innovative media brands and content-driven businesses," the company said in a statement on the ASX.
CarsGuide launches new pay-per-view model
CarsGuide.com.au has introduced its new pay-per-view and map-based search model that aims to be more transparent and fair for car dealers and buyers.
The new model only charges dealers for actual vehicle views, 65 cents each, capped at $39.95. Previously, dealers could pay more than $22.50 for dead-end leads.
The new map-based search will help sellers search only for cars within the distance they are willing to travel. Research that informed the remodel showed that car buyers were up to 10 times more likely to enquire about a vehicle if they knew it was within their preferred travel distance.
Al Jazeera English launches brand campaign
Al Jazeera English has launched its largest marketing push to date with a new brand campaign.
The campaign, 'Hear the Human Story', is rolling out across Australian print, digital, TV and radio, and promotes Al Jazeera English's unique proposition that focuses on the human impact of world events.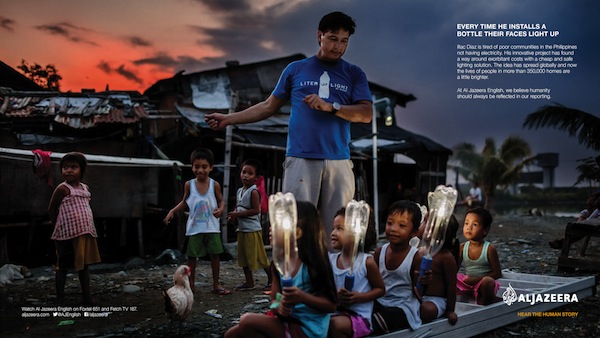 APN Outdoor's first days on the ASX
The latest media company to go public, APN Outdoor, has seen its share price reach a high of $2.77 in its first four days on the ASX.
APN Outdoor Group Limited experienced its highest ($2.77) and its lowest ($2.61) prices on Tuesday, 11 November, its first day on the stock exchange, finishing at $2.65.
Each of the following three days the price has finished higher than the first, finishing at $2.68 on 14 Friday November.
Nielsen Online Ratings for October 2014
Nielsen Online Ratings for October 2014 show the following changes from the previous month:
The Sydney Morning Herald remains top of the online news category, increasing its audience by 6%,
audiences spent 17% more time on news.com.au (1 hour, 46 minutes),
BBC and The Herald Sun had the strongest in unique audience of the top ten mastheads (12% and 11% respectively),
The Guardian recorded its highest unique audience figure since it launched in the Australian market in May next year (an 8% increase to sixth place), and
Nine News suffered from the MSN separation, with a 20% decline in unique audience, while MSN News moved up the ranks to 17th place.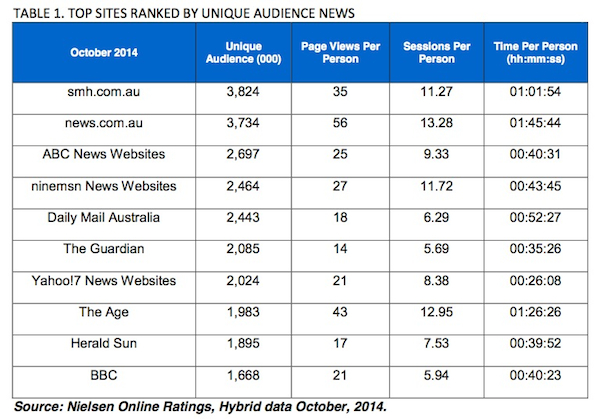 Diversity rules at SBS and it's all good at ABC
SBS and ABC have unveiled their 2015 line-ups, with SBS focusing on reflecting the changing face of the nation and ABC simply stating 'it's all good'.
SBS will host 26 new Australian commissioned programs "reflecting the people, culture and stories of today's Australia", including:
The Principal, a dramatic story set in a South West Sydney boys' high school, starring Alex Dimitriades and Aden Young,
food programs from Poh Ling Yeow, Luke Nguyen and Silvia Colloca,
Shaun Micallef's Stairway to Heaven, an Indian exploration, and
Angry Mile, a front row seat to Australian life from a kebab shop.
ABC's new offerings for 2015 include:
A four-hour New Year's Eve program,
AFC Asian Cup Australia 2015,
a news comedy show starring Charlie Pickering,
narrative comedy The Ex-PM, starring Shaun Micallef, and
new Australian drama The Secret River.