Media Monday: Italian assault on press freedom; Guardian launches Masterclasses; The Onion baits click-bait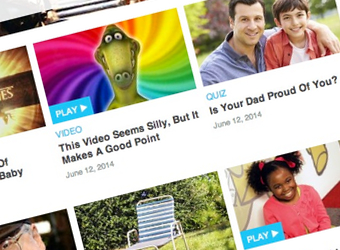 Italian Football Federation launches assault on world title, press freedom
International publishing industry players have condemned the Italian Football Federation charging for video news at its press conferences in Brazil during the 2014 World Cup. Fees are being levied on news organisations such as TV news agencies which provide news video content to thousands of stations as well as to editorial websites.
The Newspaper Works has supported the worldwide condemnation of the Italian Football Federation charging for video news at its press conferences, its CEO Mark Hollands said. "Charging for pressers goes against the grain of what the press is and does. It jeopardises press freedom, limits the content available to audiences and is not in the interest of media outlets, football fans or the general public. The more noise that is made about this issue the better because it must be stopped before it becomes an alarming trend," said Hollands.
News Media Coalition executive director Andrew Moger said: "Charging for creating news is an assault on press freedom. A press conference, especially one involving a national side, is by its very nature an open press event. In fact, the function of news agencies providing text and photographs or news video serve the interests of the team, its sponsors and the public through their established distribution networks and therefore exposure of the team, partners and players."
World Association of Newspapers and News Publishers (WAN-IFRA) secretary general Larry Kilman said: "It is unacceptable to ask news media to pay to cover legitimate news events. News agencies, newspapers and other media are the representatives of the public at these events and efforts to monetise their access will reduce press coverage and ultimately harm both football fans who rely on independent coverage and the teams themselves."
The Guardian launches Masterclasses program in Australia
The Guardian has brought its flagship program of educational courses, Guardian Masterclasses, to Australia as the brand continues to expand its market share locally.
Guardian Masterclasses is a program of learning offered by the Guardian featuring a broad range of short and long courses across a variety of disciplines from creative writing, journalism, photography and design, film and digital media, music and cultural appreciation.
Courses will be led by experts at the Guardian, including its journalists, as well as leading figures in the creative and digital industries. Guest speakers will often be featured to add more flavour to selected topics.
Masterclasses signals Guardian Australia's further investment in the local market as it aims to expand its value to Australian audiences by offering up its most important asset, its team, to the general public.
"Through Masterclasses, we aim to communicate Guardian Australia's open journalism ethos, and by increasing reader intimacy we bring them closer to our organisation," Guardian Australia managing director, Ian McClelland, said. "We have a talented editorial team and global network of experts that bring a plethora of unique skills and expertise in their respective fields. Masterclasses will allow them to share their valuable knowledge and interact with Guardian readers directly."
New brand expression from SBS invites Australia to join in
SBS has kicked off a new brand expression, inviting all Australians to explore and celebrate diversity.
'Join In' invites all Australians to experience, explore and celebrate diversity in all its forms, and will commence as the world spotlight shines on Brazil for the 2014 FIFA World Cup, broadcast on SBS.
SBS is asking all Australians to Join in with and enjoy content which brings a unique and different perspective to Australian life. SBS chief content officer Helen Kellie says, "Over the past 40 years SBS has brought different content to our screens in news and current affairs, sport, documentary and drama. 'Join In' is continuing that celebration of diversity and invites all Australians to embrace our differences and enjoy what it means to be Australian today."
The 'Join In' campaign was developed in partnership with Joy, led by Andrew Wynne, and informed by SBS's Charter to reflect Australia's multicultural diversity by encouraging all Australians to connect with SBS as a place for cultural exchange.
Satire stalwart The Onion launches new website to skewer click-bait publishers
The team behind satirical publication The Onion has launched a new website that takes aim at viral click-bait websites such as Buzzfeed and Upworthy.
Called ClickHole, it makes virality for all content its mission:
"Let's be honest: Today, the average website carelessly churns out hundreds of pieces of pandering, misleading content, most of which tragically fall short of going viral.

"At ClickHole, we refuse to stand for this. We strive to make sure that all of our content panders to and misleads our readers just enough to make it go viral. You see, we don't think anything on the internet should ever have to settle for mere tens of thousands of page views. We believe that each and every article—whether about pop culture, politics, internet trends, or social justice—should be clicked on and shared by hundreds of millions of internet users before they can even comprehend what they just read.

"ClickHole has one and only one core belief: All web content deserves to go viral."
ClickHole has started life with beef jerky company Jack Link's as sponsor.
Yahoo7 announces the appointment of Anne Markey to the role of head of editorial for Australia and New Zealand
Markey joins Yahoo7 with over 25 years editorial and management experience at Australia's leading media companies including News Corp, SBS and Fox Studios. She has worked across digital, video, and print covering news, finance, entertainment and sport.
As head of editorial Australia and New Zealand, Anne will be responsible for overseeing editorial teams and providing strategic direction for content across Yahoo7 and Yahoo New Zealand properties including news, lifestyle, entertainment, travel, finance and sport.
Yahoo7 director of product and audience, Caroline Casey said, "Providing engaging, entertaining and informative content for our audience is at the heart of our business and as such, we continuously strive to enhance our editorial offering across all our media properties.
"In this role, Anne will work closely with editorial teams across Yahoo7 and Yahoo New Zealand and joint venture partners including Australia's number one television network, Channel Seven, to develop content that interests and excites our Australian and New Zealand audiences. Her appointment and our continued investment in editorial will help grow Yahoo7 as the go-to destination for news, lifestyle, entertainment, sport and finance content."
Markey will join the Yahoo7 team mid-July, 2014, based in the Sydney office.