Media Monday: Mags get appy to keep readers happy; Fairfax and mX win at global awards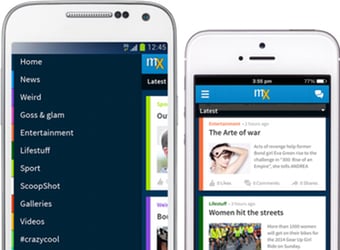 Fairfax wins INMA Global Innovation Award
Fairfax Media has been named worldwide winner of the International News Media Association's Global Innovation Award.  The company won the inaugural award for its Real-Time Working project – a "radical re-think of work space and culture change" – in its Sydney and Melbourne offices.
Fairfax's structured innovation project beat industry competition from around the world. The project involved a metric-focused series of physical, behavioural and technological strategies aimed at enabling more efficient, flexible and collaborative work by individuals and teams.
Fairfax's Real-Time Working model is now being extended to its new offices in Wellington, New Zealand, and potentially to other locations in the near future.
mX a dual winner at the global INMA Awards
Commuter newspaper mX was also recognised at the 2014 International News Media Association (INMA) Awards, and was the only Australian media brand to take home two awards.
Through its smartphone app (pictured), mX won the categories of 'Best New Mobile App or Website' and 'Best Idea to Grow Digital Audience or Engagement'.
In addition, mX also placed second and third respectively in the categories of 'Best Idea to Grow Advertising Sales or Retain Advertising Clients' and 'Best Launch of a Brand or Product to Create a New Audience Segment' for its app.
Buy eight (Bauer) mags get one (Bauer) mag free!
Bauer Media has announced an industry first for Australian magazines, with plans to launch 'Reader Rewards', a free smartphone loyalty app that will reward consumers for purchasing eligible Bauer Media magazine titles.
It will launch on 2 June in participating newsagents, and works on a star system, in which each Bauer magazine purchased within newsagents is awarded one star.
The reader will be rewarded by receiving their ninth Bauer magazine purchase free-of-charge, allowing them to redeem their free magazine across any of Bauer's 55 participating titles, regardless of the value of their previous purchases.
Men's Health partners with smart watch maker to enhance fitness tracking app
Men's Health has formed a partnership that sees its personal trainer app integrated with a smart sports watch.
The Magellan Echo smart sports watch uses Bluetooth to wirelessly connect to an iPhone and stream live information from the phone's fitness apps, allowing fitness-conscious wearers to monitor distance, time, calories, heart rate and pace directly from their wrist.
The Magellan Echo is compatible with iPhone 4S, 5, 5C and 5S and is available in stores now in black, orange, blue and pink, from $149 and $199 for the model with a heart rate monitor.
The Men's Health Personal Trainer app features videos of exercises and workouts. The initial download is free, with additional in-app purchases available from $0.99, up to an $8.49 expert subscription.
Masthead audiences grow despite print declines
We covered the audited circulation figures last week, but Roy Morgan is adding its data to the pot, confirming that fewer people read print editions, but pointing out that most of Australia's major metro newspapers have increased their total masthead audiences.
Of the 10 main capital city dailies, seven increased their masthead audiences from March 2013 to March 2014, and only three declined. Masthead audience is the number of people who read or access publisher branded content across all platforms of print, website and mobile smartphone or tablet apps in an average seven days.
The Financial Review scored the highest proportional growth (22.8%), while the Sydney Morning Herald had the largest increase in audience over the period (189,000, or 6.0% growth), extending its lead over the Daily Telegraph (up 3.5%) and Herald Sun (up 0.7%) as Australia's most-accessed masthead.
The audience also grew for The Age (2.9%), The Australian (2.3%) and the Adelaide Advertiser (2.0%), but shrunk for newspapers in Brisbane and Perth.
However an increasing proportion of each masthead's audience is only using websites or apps for their newspaper consumption. Eight newspapers lost print readers in the past year, but five of those still experienced growth in masthead audience.
Australian Gourmet Traveller and Harvey Norman partner for the 2014 Gourmet Institute 
Australian Gourmet Traveller in conjunction with Harvey Norman today announced the return of Gourmet Institute, the in-store masterclass programs.
Now in its seventh year, Gourmet Institute brings together some of Australia's biggest culinary stars across eight exclusive cooking demonstrations at Harvey Norman stores in Sydney, Melbourne and Brisbane.
The line-up for 2014 includes some of Australia's most notable chefs including Vue de Monde's Shannon Bennett, Quay's Peter Gilmore, Guillaume's Guillaume Brahimi, Four in Hand's Colin Fassnidge, Mr Wong's Dan Hong, Marque's Mark Best, Cutler and Co.'s Andrew McConnell and Noosa Beach House's Peter Kuruvita.