Media Monday: Mags' six-month readership data, 'The Real Newsreaders of Sydney' and Setanta Sports takeover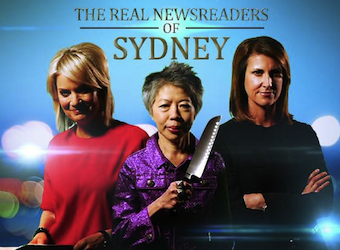 In Australian media news this week, magazine publishers have received readership and circulation data for the six months to June 2014 from the AMAA, three Sydney newsreaders team up for a comedy segment on SBS 2's The Feed, BeIn Media Group to takeover Foxtel channel Setanta Sports Australia and a Computable News engine turns text into big data. 
Magazine readership and circulation data released
Media publishers are announcing their circulation figures after the Audited Media Association of Australia (AMAA) released its Audit Bureau of Circulations data for the period ended June 2014.
NewsLifeMedia
NewsLifeMedia is the number one digital magazine publisher in Australia with 43.6% share of total digital sales.
The company sold more than 3.8 million copies of its print and digital magazines in the six months to June 2014.
Inside Out – 46,774 total sales per month (45,332 print, 1,442 digital), with 1.7% total masthead growth period-on-period. Readership: 87,000. Total social media audience: 808,284,
Vogue Living – 41,983 total sales per month (41,051 print, 932 digital), with 1.1% growth. Readership: 327,000. Total social media audience: 1,219,070,
Country Style – 62,590 total sales per month (62,073 print, 517 digital), with 0.4% growth. Readership: 398,000. Total social media audience: 529,184,
Vogue Australia – 52,133 total sales per month (50,325 print, 1,808 digital), with 0.9% growth,
Super Food Ideas – 140,299 total sales per month (135,051 print, 5,248 digital). It remains Australia's number one food publication. Multi-platform readership: 882,000,
ABC Delicious magazine – 94,652 total sales per month (92,211 print, 2,441 digital), with 19.5% growth. It is "Australia's number one premium food glossy". Readership: 724,000. Total social media audience: 224,251,
Donna Hay magazine – 93,175 total sales per month (80,138 print, 13,037 digital). Is again Australia's best-selling digital magazine. Readership: 845,000. Total social media audience: 321,744,
Taste.com.au magazine – 80,272 sales per month (76,748 print, 3,524 digital), with 41.1% growth. Readership: 644,000. Total social media audience: 191,579, and
Vogue.com.au – Australia's number one fashion brand online. Unique audience of 429,000 and 4.779 million page views in June 2014, as well as 1,769,471 total social media audience.
Bauer Media
Bauer Media's homemaker titles all experienced circulation growth for their fourth consecutive audit, with the company's share of the homemaker category at an all-time high of 26.8%.
Readership across all of the Bauer homemaker titles is at 1.195 million, with more than 170,000 connections on social media.
Real Living – 81,217 sales per month (grew by 1,156 copies),
Australian House & Garden – 114,045 sales per month (grew by 476 copies), and
Belle – 45,230 sales per month (increased circulation by 1.6%).
Bauer Media chief executive officer Matthew Stanton said: "We are proud to see continued circulation growth across all Bauer homemaker brands, reinforcing the titles recent readership surge, while boding well for the launch of homes+."
Sydney newsreaders star in comedy segment
Sydney newsreaders Lee Lin Chin (SBS World News), Sandra Sully (Ten Eyewitness News) and Natalie Barr (Sunrise, Channel Seven) have teamed up to star in a special segment on SBS 2's The Feed tonight, "The Real Newsreaders of Sydney".
"We all know the Real Housewives of Melbourne, but it's behind the news desks of the harbour city that things get feisty," says an announcement from SBS about the segment.
"The Real Newsreaders of Sydney are trading sequined designer handbag lines for network rivalry, washed up rock star husbands for Walkley squabbles, private jets for autocue fails, botox binges for rumoured intern abuse scandals, questionable fashion ventures for carols in the domain hosting trash talk, drinking problems for, well, drinking problems."
Watch the promo video to hear some priceless quotes from these normally straight-faced newsreaders.
Setanta Sports Australia sports channel takeover 
Global media conglomerate BeIn Media Group is acquiring Foxtel channel Setanta Sports Australia from Ireland-based Danu Investment Partners. The take-over is currently subject to approval by Australia's Foreign Investment Review Board.
Setanta Australia broadcasts international football and rugby union games to 2.5 million households with Foxtel subscriptions, as well as via FetchTV and online.
German Bundesliga, UEFA Europa League and RBS Six Nations are some of the competitions that Setanta Australia shows.
BeIn deputy chief executive officer Yousef Al-Obaidli said: "We are very happy to take our BeIn Sports brand to yet another admirable market. Australians are very passionate about sports and we are proud to fulfil this passion and provide them with a unique experience."
Computers help journalists with news
The Capital Markets Cooperative Research Centre (CMCRC) has used an intelligent text mining engine to create new applications to help journalists and news organisations with the power of big data from text.
The Computable News engine gives structure to data, aiming to solve the problem of ambiguity in written text.
CMCRC researcher Professor Mark Johnson said the engine would help machines to interpret unstructured text and identify the key entities of subjects the text is about, such as people or places.
"This sounds easy and for humans it is, but machines find it very difficult to distinguish between people, places, things and companies with the same name. Depending on the context, 'ABC' could refer to Australian or American broadcasters, or the childcare company ABC Learning. Our solution extracts the most likely candidates and then links them to a knowledge base such as Wikipedia, resolving ambiguity as to who or what the text is about."
One application built on the Computable News Engine is 'Shorty', which compresses news stories into two or three key lines and also clarifies names (replacing "Turnbull" with "Malcolm Turnbull" for example).
Another is a proof of concept editor that links writers to database entries that can be used for fact checking or to auto-complete particular details.