Media Monday: Pac Mags prefers EMMA's optimism to Roy, newspaper audiences go digital, OOH grows 10% in October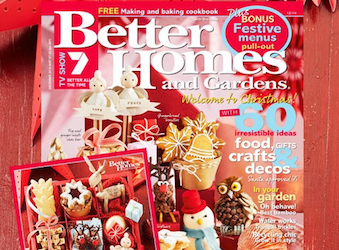 In Australian media news this week, Better Homes and Gardens prefers Emma's figures to Roy Morgan's, more than half of newspapers' audiences are reading on digital, the out-of-home industry grew more than 10% in October, Mercedes-Benz is Qantas' first Sky News inflight entertainment advertiser,  The Economist launches a daily edition and Surfing Australia's owned content airs on mainstream TV channel One. 
EMMA more optimistic than Roy for magazine readership
Pacific Magazines is snubbing Roy Morgan to quote EMMA (Enhanced Media Metrics Australia) audience figures for the 12 months to September 2014.
Both measurement standards place the company's leading title, Better Homes and Gardens, in first place for paid magazine readership (after Coles Magazine and Fresh, by Woolworths). But EMMA is reporting the publication's readership at 2,550,000 readers per month, while Roy Morgan states it as 1,835,000.
According to Pacific Magazines, Better Homes and Gardens also had the biggest readership increase of 9.2% year-on-year, whereas Roy Morgan fails to place it in the top 20 list for magazines with high readership growth, claiming its readership grew 4.2% since last September.
Other readership figures Pacific Magazines is reporting based on EMMA include:
That's Life! recorded the biggest readership growth year-on-year of all weekly magazines (5.5%),
Marie Claire extended its lead in the fashion category, adding 29,000 readers year-on-year,
InStyle is the only fashion magazine to record readership growth both year-on-year and quarter-on-quarter.
Men's Health extended its lead in the men's lifestyle category, growing 4.2% year-on-year to 546,000 readers,
Diabetic Living added 9000 readers year-on-year to become the most read magazine in the health category, and
Feast was the fastest growing food and entertaining magazine in the last three months, up 3.5% in the last quarter.
Here is Roy Morgan's top 10 list of magazines with year-on-year readership increases:
National Geographic,
Feast,
Overlander 4WD,
Australian Auto Action,
Men's Style,
RM Williams Outback,
Limelight,
Big Issue,
Women's Fitness, and
Fishing World. 
More than half of newspaper readers choosing digital
58% of newspaper audiences are now reading content digitally, an increase of 17% since last year, according to EMMA (Enhanced Media Metrics Australia).
Newspapers' combined print and digital readership has increased by 7% since last year. But print readership for Australia's top 13 national and metropolitan newspapers decreased 2%.
2.9 million Australians are now reading newspaper content on smartphones and tablets.
The digital readership is highest when audiences are broken down to focus on those aged between 25 and 54. Further breakdown shows 65% of 18 to 24 year-olds, and 52% of 55-69 year-olds consuming journalism digitally.
"The increase in publishers posting to social media, plus the new news apps being launched into the market, is very likely powering these new figures," said The Newspaper Works CEO Mark Hollands.
The Newspaper Works says a 3% year-on-year increase for total masthead readership was due to EMMA counting more publications this year than in 2013.
EMMA is run by Ipsos on behalf of The Readership Works, a company established by The Newspaper Works for that purpose.
Out-of-home October growth more than 10%
The out-of-home advertising industry has reported an increase of more than 10% on its reported revenue from October compared with the same time last year, at $60.4 million in 2014.
Year-to-date revenue has increased by 7.92%, tracking at $472.8 million, up from $438.1 million for the same time last year.
Out-of-home category figures for the year to date in October 2014:
Roadside billboards: $156.3 million,
Roadside Other (street furniture, taxis, bus/tram externals, small format): $159.3 million,
Transport (including airports): $80.9 million, and
Retail: $76.4 million.
Mercedes-Benz announced as Qantas' first Sky News advertiser
Mercedes-Benz has been announced as the first inflight advertising partner for Qantas' Sky News coverage on the airline's domestic flights between Mondays and Fridays.
Multi-Channel Network (MCN) made the announcement following last week's news that Qantas is improving its in-flight entertainment through partnering with Sky News, Foxtel and Fox Sports.
The partnership between Mercedez-Benz and Sky News will begin this month and run until early 2015, including TVCs and billboards. The brand will also broadcast a campaign on Sky News.
READ: New Qantas in-flight entertainment program (scroll to 5th story) »
The Economist goes daily
Weekly publication The Economist is launching a daily digital edition, The Economist Espresso, designed to complement the weekly edition explaining the news on world affairs.
The Economist Espresso, available via iOS and Android apps and email, will be available every weekday morning in three editions – for the Americas, Europe and Asia.
Free readers can view one article each day, while full access is available to existing digital subscribers and The Economist Espresso-only subscribers.
Surfing Australia's owned content to air as a weekly TV show
Surfing Australia and content creation company Brand New Media (BNM) are launching a proprietary content project to air on mainstream television channel One.
The half-hour television show, mySURF.tv, is an extension of the IPTV surfing channel of the same name that the brand launched in December 2013.
Simon Joyce, managing director of BNM, Australia and New Zealand said: "mySURF.tv is a terrific example of how smart brands can leverage premium video content to generate revenue streams, and develop an archive of valuable assets. Brands now have the opportunity to become broadcasters and engage directly with their target audience.
"The launch of mySurf.tv on ONE takes this to the next level and demonstrates the commercial possibilities when an enterprise is committed to creating exceptional proprietary content."