Media news: HuffPost Australia; Tumblr ads; AdShel digital screens and beacons, The Chronicle Toowoomba digital subscription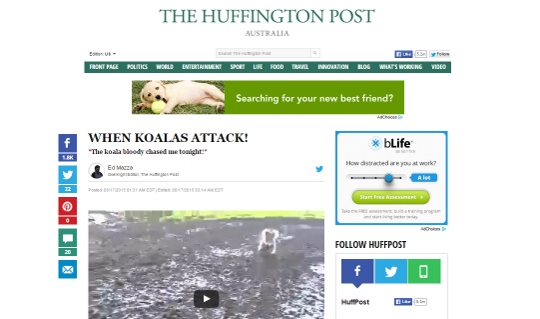 In Australian media news this week, Australia gets a local edition of The Huffington Post; Tumblr launches advertising; AdShel announces digital screens and beacons; ARM digital subscription package launches with The Chronicle, Toowooma; News Corp launches Business Daily; and video platform Vevo grows locally.
HuffPost Australia launches
News website The Huffington Post has launched an Australian branch as the 15th in its growing global network, partnering with Fairfax Media.
HuffPost has the largest news audience in the US with 214 million unique visitors per month.
Yahoo7 invites advertisers to Tumblr
Woolworths, Telstra, Monash University and Studio Canal are the first brands to try advertising on social blogging platform Tumblr after its owner Yahoo7 launched the platform commercially in Australia and New Zealand.
Tumblr offers seven different kinds of posts to brands, including videos, GIFs, images and audio.
Yahoo7 is also launching its own brands on Tumblr, including Home and Away, Yahoo7 Entertainment, Dancing with the Stars and 7News Raw.
A new team of Tumblr specialists will operate from Yahoo7's Sydney office, growing desktop and mobile capabilities and audience engagement.
Tumblr has 4.6 million users in Australia and 750,000 in New Zealand. Worldwide, it has more than 500 million users, 250 blogs and more than 118 billion posts.
AdShel announces digital screens and beacons
AdShel has announced it will increase the number of its digital screens on the Sydney Trains network to 200 after beginning the year with 130. Stations to gain digital screens will include Circular Quay, Newtown, Redfern, Milson's Point, St Leonards, Edgecliff, Hurstville and Hornsby.
From Q4 the company will partner with Site Tour to open automated trading to all these 200 digital screens.
In New Zealand, AdShel is rolling out 1000 beacons in major metropolitan and key regional markets from October. It is also planning to expand its digital screen street furniture network across Auckland, Wellington and Christchurch during 2016. AdShel recently digitised 35 street furniture panels in Auckland.
ARM digital subscription package launches with The Chronicle, Toowooma
APN News and Media's Australian Regional Media (ARM) business is today rolling out its first digital subscription package under a metered model with The Chronicle in Toowoomba, following agreements with News Corp Australia, Presto and The Washington Post.
A subscription to 'The Chronicle Unlimited' will give users:
Unlimited digital access to The Chronicle online,
full access to The Chronicle's new responsive mobile and tablet apps,
full access to a digital replica of The Chronicle's print edition,
unrestricted digital access to The Courier-Mail,
membership to The Courier-Mail's +Rewards program which includes free e-books from HarperCollins and digital magazine subscriptions to NewsLifeMedia titles such as GQ, Taste.com.au magazine and Vogue Australia,
digital subscription access to Fox Sports' website including the live streaming of Fox Sports news, on-demand replays and extended video highlights,
52 weeks of free digital access on computer, smartphone and tablet to The Washington Post, and
three months access to the Presto Entertainment bundle.
ARM plans to launch similar digital subscriptions across its other titles in regional Queensland. Subscribers to ARM's northern New South Wales titles will receive unrestricted digital access to The Daily Telegraph and membership to its +Rewards program.
News Corp launches Business Daily
News Corp Australia have launched Business Daily, a new business journalism section that will run in The Daily Telegraph, Herald Sun, The Courier-Mail and The Advertiser.
Each state business team will contribute local content to the section which will feature alongside syndicated national content from The Australian Business Review and Business Spectator.
Vevo grows locally
Video platform Vevo has recorded a 14% year-on-year growth in audience numbers in Australia and New Zealand to June 2015, with 11 million fans (including 9 million in Australia) tuning into the platform.
Vevo now receives more than 147 million monthly streams including 115 million from Australia.
Authentic Entertainment, which manages Vevo in the region, is attributing much of the growth to mobile use. Streams from mobile devices has grown 7% since December 2014.