$10 million rebrand for Quest Apartment Hotels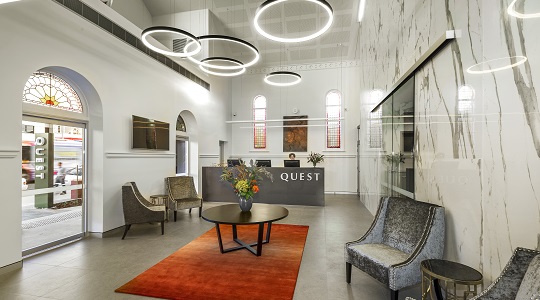 The Quest Hotel chain has announced a $10 million rebrand across its chain of 150 franchise hotels, to be completed by May 2016.
The rebrand has been designed to future-proof the brand for tomorrow's business traveller and covers every facet of the customer experience including a modernized logo, updated building signage, stylish contemporary uniforms and an ongoing commitment to raising the bar in design and fit out standards.
14 new locations are scheduled to open in the next 12 months, while a number of properties have been de-branded that no longer meet the Quest standards, ensuring consistency across the guest experience.
Quest CEO Zed Sanjana attributes Quest's continued success to the passion of its franchisees and its unique franchising model.
"Our franchising model is our competitive advantage – providing a unified front which ensures consistent delivery of a world class guest experience, " Mr Sanjana said.
"Market leadership is about continuous evolution; it is vital we lead the industry in meeting the needs of business travellers. We are modernizing and future-proofing the brand, continuing to speak to guests to ensure we understand their needs in terms of location, product and experience and adapt accordingly."
The Quest apartment hotel chain began in 1988 with the establishment of the Quest Inn in Melbourne. Today the Quest brand operates at 150 properties across Australia, New Zealand and Fiji.
Quest properties have become larger, with CBD locations often boasting 100 rooms or more, and country properties of around 80 rooms. A third of Quest apartments are now studios, providing the flexibility of a hotel like stay, with the added benefits of additional service offerings for business travellers.
"Quest truly offers the best of both worlds – the attentive and personalised service of a hotel, combined with the spacious layout and facilities found in an apartment," Mr Sanjana added.