Media News: iHeartRadio adds 8 new stations, NewsCorp and Chemist Warehouse join forces, advertisers run from The Chaser, and 7 release new app for the tennis
In Australian media news, iHeartRadio Australia add eight new stations and 74 languages, advertisers steer clear of The Chaser, sports rate highest on 2015 TV ratings, radio ad revenue increases, Fairfax goes 'beyond the banner', December 2015 online shopping figures released, Channel Seven launch a new tennis app, News Corp and Chemist Warehouse team up for a new wellness publication, and more.
iHeartRadio adds eight new stations, 74 languages to its network
Australian Radio Network has announced the addition of eight SBS radio stations to iHeartRadio Australia.
The new stations will give iHeartRadio Australia listeners access to news and music from across the globe, broadcast in over 74 languages.
"We are excited to be including SBS Radio's unique and distinctive content in the iHeartRadio Australia app. With nearly 50% of Australians either born overseas, or having at least one parent born overseas, SBS Radio offers something for everyone with news and information in 74 languages and the hottest music from around the world," said director of SBS Radio Mandi Wicks.
Advertisers run from The Chaser
The Chaser Quarterly reappeared back on shelves after a 10 year hiatus with only one legitimate advertiser, despite a national call out.
Digital communications platform, Blrt, was the only company willing to take up the opportunity, with many steering clear as a result of the publication tackling its ads in a satirical way and encouraging companies to make fun of themselves.
"We put a public call out for advertisers who weren't afraid to poke fun at themselves and who aren't scared of satire. Blrt was the only company in Australia brave enough to come to the party and take out ad space with us," said Charles Firth of The Chaser.
Blrt CEO and founder Anurag Chakradhar said the decision to advertise with The Chaser was an easy one.
 "As a digital start up, part of our role is to encourage people to delve into the new, think differently and challenge the status quo. Our current and future Blrt users are tech savvy and expect real innovation from the next generation of communication tools. This fits The Chaser audience and readers to a T," said Chakradhar.
Live sport dominated TV ratings in 2015
Oztam has released its report on the highest rating programs of 2015, and live sport dominated.
The AFL Grand Final was the year's most watched program with a viewership of 2,645,000 people across the five capital cities market. It was closely followed by the second State of Origin match (2,517,000), and the NRL Grand Final (2,458,000).
The MasterChef finale was the most viewed non-sport program, coming in at eighth position with a viewership of 2,303,000 across the five capital cities market.
Metropolitan radio ad revenue up 4.6%
Metropolitan commercial radio stations saw a growth in advertising revenue of 4.62% to $390.821 million for the first half of the 2015/16 financial year, figures released by Commercial Radio Australia have revealed.
Despite the stronger year, commercial radio advertising revenue for the five capital city markets was down by 0.51% to $55.116 million, compared to December 2014.
"While advertising revenue was slightly softer in December, the overall performance for the first half of 2015/16 has been positive and reflects how well radio has adapted to structural change and subdued economic conditions," said Commercial Radio Australia CEO Joan Warner.
Fairfax launch trade marketing campaign to go beyond the banner
Fairfax has launched a trade marketing campaign, 'Beyond the Banner', designed to inspire marketers to look beyond the traditional banner ad and get more creative with smartphone and tablet advertising.
The campaign highlights the innovation that has taken place in mobile advertising since the banner ad rose to popularity in 1994.
"Smartphones are now the most popular digital device for consumers – accounting for more online traffic than any other digital platform," said Fairfax Media mobile commercial manager Stewart Hayes.
"Small screens deliver large reach and the Fairfax Mobile Network offers advertisers a world of opportunity far beyond the standard banner ad," he said.
Nielsen online ratings for December 2015
There was a large spike in the number of visitors who turned to the internet during the Christmas period, according to Nielsen's online performance report for December.
Seven of the top 10 mass merchant retailers websites, including Target Australia, Big W and Kmart, recorded double digit gains in visitors during the period.
Meanwhile News.com.au, SMH.com.au, and ABC news maintained their ranking for the highest unique audience in the 'current events and global news' sub-category.
MSN News achieved a top 10 ranking for the first time in the category, while Ninemsn rose to fourth position.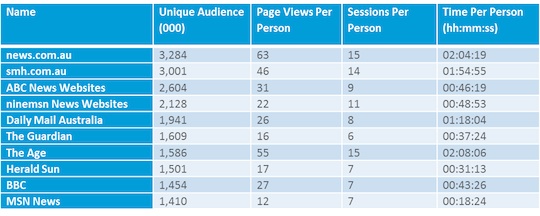 News Corp team up with Chemist Warehouse to publish new wellness magazine
News Corp Australia and Chemist Warehouse have announced a partnership to co-produce a new premium, custom designed quarterly wellness publication.
The publication, 'The House of Wellness', will cover everything that falls under the umbrella of wellness, from nutrition and fitness to beauty, and will be available to purchase at newsagents and all Chemist Warehouse stores nationwide.
Chemist Warehouse COO Mario Tascone said the aim behind the joint initiative was to evolve the House of Wellness brand into Australia's biggest health media brand.
"It will be the new authority in all things health and beauty and judging by the demand for space from our suppliers it is sure set to grow bigger and bigger each edition," said Tascone.
"We will use our massive reach Australia wide to ensure that, from day one, the 'House of Wellness' magazine will be the biggest distributed health and beauty magazine Australia has ever seen."
Channel 7 launch new 7Tennis app
Channel 7 has launched a new 7Tennis app, to coincide with the beginning of the 2016 Australian Open.
The app will allow viewers to watch any of the 16 televised courts at the Australian Open.
The online coverage allows fans to watch over 2000 hours and 500 matches of tennis over the course of the two-week Grand Slam.
Seven chief revenue officer Kurt Burnette said the new app is a fantastic way for more people to get the big TV experience of all televised courts.
"The summer of tennis via our 7Tennis app will be seen by more Australians in more ways than ever before. With the 7Tennis app now on Telstra TV our viewers will get even more opportunity for the big TV experience of all the televised courts at the Australian Open," he said.
Daily Mail and General Trust to take 100% ownership of the Daily Mail
Daily Mail and General Trust (DMGT) and Nine Entertainment Company have announced that Daily Mail Australia is to become a 100%-owned DMGT publication.
The announcement will see no change to the Daily Mail Australia website, which has approximately two million Australian readers and newsrooms located in Sydney, Melbourne and Brisbane.
Global Mail online publisher and CEO Martin Clarke, said the move reflected the changing media landscape.
"Both companies felt that in a changing media landscape, the needs of the website were best served by sole-ownership going forward," he said.
Netflix announces premiere dates for 11 upcoming series
Netflix has announced the premiere dates for 11 upcoming comedy, drama and kids series.
Popular series, Marvel's Jessica Jones will return for a second season and the award winning Orange is the New Black will return for a fourth season on 17 June.
The lineup also has a raft of new shows including the first 10 episodes of comedy series, 'The Ranch', starring Ashton Kutcher.
The acclaimed drama series 'House of Cards', which stars Kevin Spacey will also return for a fourth season, set to begin on March 4.