Media Tuesday: Mashable's first Australian hire; Reddit makes pitch to SMEs; BBC Worldwide's new brands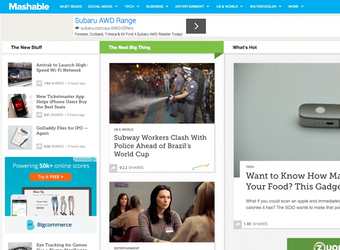 Editor's note: Lesson learned – no more choosing column names based on days of the week. Media Monday will return to its regular time slot next week.
Mashable announces expansion into Australia with editor hire
US-based digital culture news outlet Mashable has announced it has hired Jenni Ryall (pictured) as its Australian editor and has brought on Inception Digital as its Australian media agency of record.
Ryall joins Mashable from News.com.au, where as multimedia editor, she managed interesting shareable content around breaking world news events including Ukraine, Typhoon Haiyan and MH370. She also served as daytime editor, packaging news stories for the website's homepage and verticals around key events such as the Boston Marathon bombings, the Election 2013 and the conflict in Syria. Prior to News.com.au, she was a news editor for Yahoo!7, where she oversaw news and content across the outlet's local websites and mobile app, and implemented social media strategies to grow readership.
In addition to adding Ryall, Mashable has also formed a partnership with Inception Digital to help grow the company's commercial opportunities with brand partners in Australia.
Reddit wants to be ad choice for small business
Self-proclaimed "front page of the internet" website Reddit is building a self-serve advertising platform to attract a slice of the hundreds of billions spent on online advertising by small businesses.
Reddit's main attraction, for both users and advertisers, is its subreddits, of which there are many and are focused on very targeted topics. The website is building a self-serve ad platform, similar to what Facebook and Pinterest have done, to let brands other than those with huge budgets target its audience.
New British drama channel BBC First starts roll out with Droga5 work
BBC Worldwide ANZ will unveil the first phase of its advertising campaign for BBC First, a new premium British drama channel, with promotional TVCs on Foxtel from Sunday 8 June. The channel premiere on Foxtel will mark the global launch of BBC First, one of three new genre brands created by BBC Worldwide to bring "unmissable" British content to the world.
Melissa Madden, BBC Worldwide ANZ director of brands and marketing says, "BBC First is a global brand that will debut in Australia as part of our strategy to position the BBC as a consumer facing media company with world class content and brands. We needed an exceptionally creative and striking campaign to capture the essence of the brand and mark its arrival, which Droga5 has managed to deliver superbly. The work forms the blueprint for the global roll-out of BBC First so we needed a campaign which will effectively launch the brand in this territory as well as the rest of the world."