MediaMind's favourite online ads of 2012
In the final days of the 2012, what better way to celebrate than to look back at some of this year's strongest digital ads? Using creativity, innovation and results as our yardstick, here are our team's top nine digital ad picks of the year.
Mazda2 homepage takeover with synchronised units
The creative team at JWT hit first gear with this homepage takeover ad in which robotic arms deftly deconstruct and reassemble the entire page to showcase the new Mazda2, itself newly reassembled with less weight and more power. Developed with the brand's fun-to-drive spirit in mind, the takeover promotes the model's new slimmed-down design and slimmed-down pricing for the ad's audience. (View demo.)
Click the images to view a demo of the ads.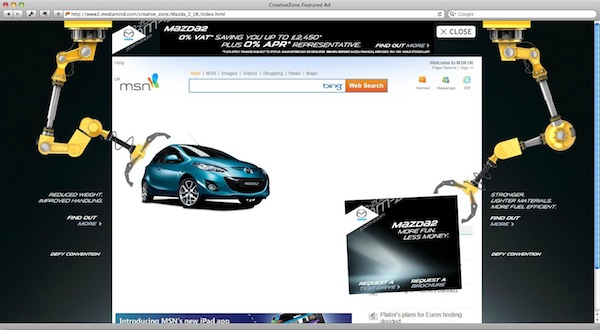 Nissan Qashqai with 360-degree webcam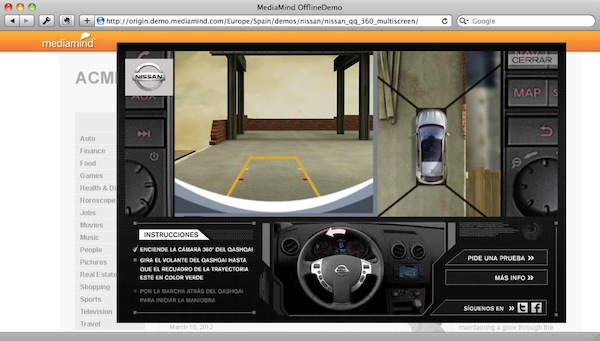 OMD developed a winning strategy for the launch of the new Qashqai integrated 360-degree webcam that synergised the innovative spirit of the brand. The goal was to trigger the interest of users and encourage them to experiment with the brand using a game-style PC-mobile combination. This helped to position the brand as one that strives on technology and innovation. Consumers in Spain loved this ad, for obvious reasons. (View demo.)
Samsung Smart TV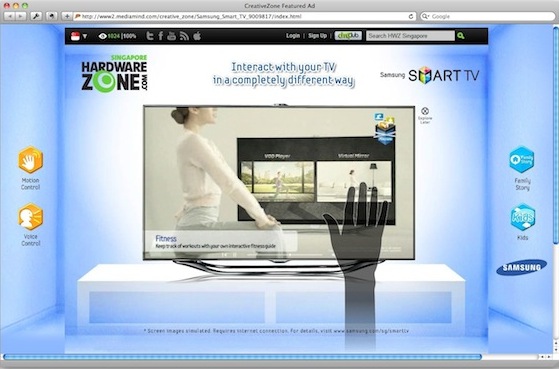 The main concept behind the Samsung Smart TV creative was to showcase its unique user interface, together with the enriching content internet-connected TV offers. Using subtle speech bubbles, videos and hand icon representation to simulate the motion and voice control experience 'online', Samsung achieved strong brand awareness and recall for its new Smart TV. The success of the concept is reflected in the benchmark-breaking results of the campaign. (View demo.)
CBS Volvo S60 in-stream video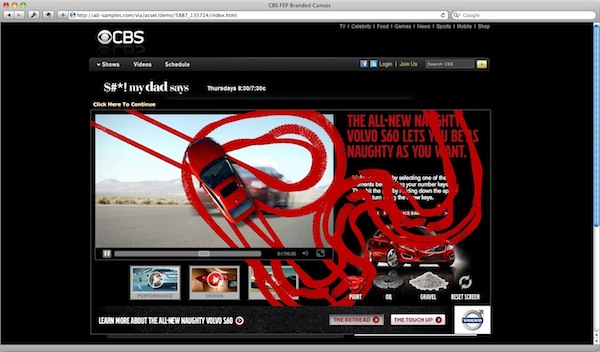 The ad unit for Volvo's all-new S60 was the perfect extension to its 'Naughty' campaign giving users the chance to be naughty themselves. They could drive the car over the banner leaving behind a pattern of tire marks as well as kick up dirt, gravel and oil across the screen. This was really great execution, purposefully provocative and polarising, forcing people to think of Volvo in unexpected ways. It also effectively positioned the Volvo S60 as racier and more powerful than any previous Volvo model. (View demo.)
REI homepage takeover with carousel
BBDO developed a 'gear that inspires' strategy targeting outdoor enthusiasts who have a symbiotic and emotional relationship with their gear: they expect gear to continually evolve through technology and their gear challenges them to reach goals they've set for themselves. The goal was to emphasize REI's deep understanding of this relationship and their ability to provide gear outdoor enthusiasts want and need in every situation mother nature brings their way. (View demo.)
Samsung 'Take Part' Olympics expandable ad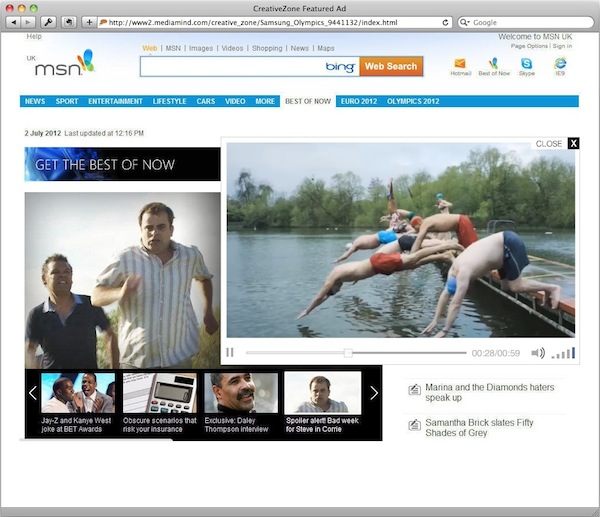 Calling all Olympic Games fans across the globe. Samsung, the official wireless partner of the London 2012 Olympic Games, built this expandable banner ad to promote their Olympic Games app, 'Samsung Take Part 2012'. The app allowed you to play games and compete with friends. (View demo.)
Gatorade 'Win From Within' synchronised banners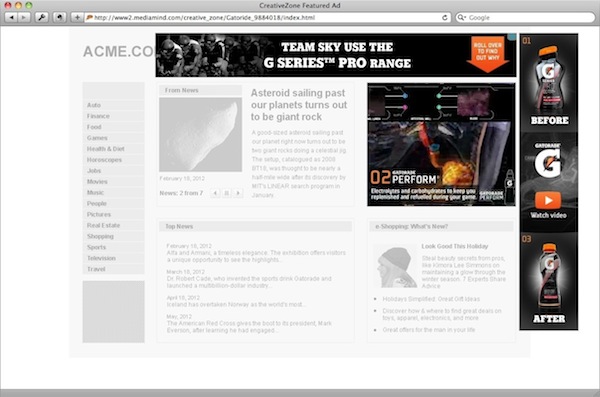 Iris Worldwide developed 'Win from Within' as part of Gatorade's 2012 brand campaign in a bid to build awareness and consumer education of the G-Series Pro range. Utilising Gatorade's British Cycling and Triathlon assets, they built a range of talking banner suites to showcase the science behind the range, while integrating teasers for three new videos, to encourage interaction on specific cycling and triathlon websites and ultimately drive purchase of the range via Gatorade's online store. (View demo.)
The Campaign homepage takeover and trip to win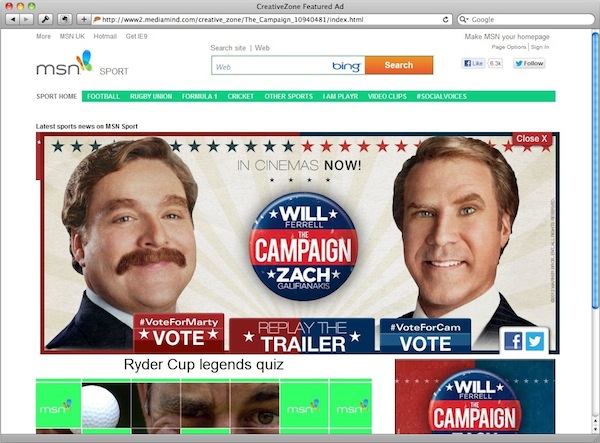 To promote the release of Warner Bros' new election comedy The Campaign, starring Will Farrell and Zach Galifianakis, creative agency Substance, working with PHD, designed and built a sliver format for the MSN Sports homepage. The aim was to showcase the trailer and encourage users to vote for their favourite character by simply clicking on their face. Results were collected in almost real time and the units 'remembered' which character the user voted for so that on viewing the ad for a second time, they would get a 'personal thank you' message from the candidate. (View demo.)
Danone VPAID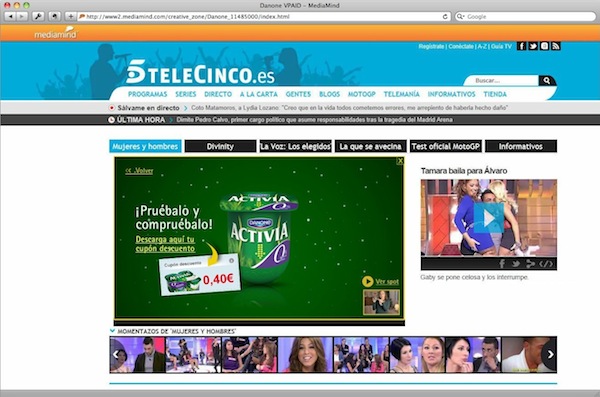 Danone wanted to increase the engagement of its creatives on the Internet, so they agreed on testing new formats that increase its levels of interaction. The new VPAID (video player ad interface definition) interactive pre-roll was a perfect solution that converts a linear spot into something new. The user can now interact, learn more about the product and get discounts for testing. (View demo.)
The takeaway into 2013 is this: when you add great creativity to cutting-edge ad technology, the sky is the limit for what you can do to engage your audience. Top agencies are getting increasingly smart about their use of media, creative and data for enhanced campaign performance. Whether it's rich media, video, dynamic ads, mobile or other emerging media, marketers must keep experimenting, making sure they take advantage of cross-channel opportunities technology makes available.