Melbourne Business School named in global top 10 for marketing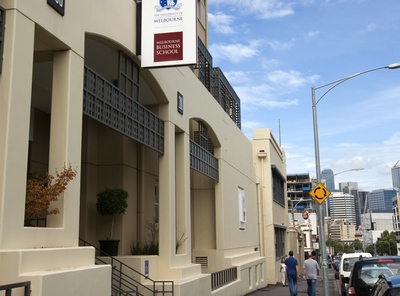 The Financial Times has rated the Melbourne Business School's marketing teaching as among the best in the world, as part of its global study of MBA courses.
According to the Financial Times Global MBA Ranking 2012, Australia's leading MBA schools are mixing it with the world's best.
In the FT survey, which collected data from more than 20,000 'class of 2008' alumni of the world's leading business schools, the Australian School of Business (AGSM) at the University of New South Wales ranked 41st overall, while the Melbourne Business School at the University of Melbourne followed close behind at 46th.
Dean of the Melbourne Business School, Professor Zeger Degraeve says the school's strengths in marketing are recognised by students and employers: "Our marketing faculty members are renowned for their excellence in research, and their unrivalled connections through their consulting and executive education work," Degraeve says.
Students who completed their MBA at the Melbourne Business School in 2008 now earn an average salary of US$110,978, slightly below their AGSM counterparts who take home an average of US$ 118,943 per year.
89% of Melbourne Business School graduates were employed after 3 months, compared to 93% for AGSM.
Compared to the top marketing schools around the globe, Australian salaries are not too far behind. Students from the top placed marketing school (Kellogg School of Management at Northwestern University) earn an average of US$145,834, while the average across the top ten marketing schools is US$120,612.
In the overall MBA rankings, Stanford Graduate School of Business came in on top, followed by Harvard Business School, University of Pennsylvania: Wharton, London Business School and Columbia Business School.
Accordingly, the highest earning 2008 alumni hail from Stanford, taking home US$191,657 per year on average.
The study also looks at value for money, career progression and placement success forAGSM and Melbourne Business School.