Mobile banking apps must continue to innovate or risk threat from global disruptors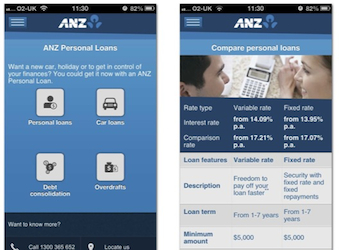 Australia's big four banks' must continue to innovate with their mobile banking apps to avoid threat from disruptors like Pocketbook, Google and PayPal, Forrester has recommended.    
A new Forrester report tested the banking apps of ANZ, Commonwealth Bank, NAB and Westpac, finding that they all "do the basics well". But Forrester's "2014 Australian Mobile Banking Functionality Benchmark" warns that continuous improvement is needed in the fast-moving and competitive digital environment.
"Digital teams at Australian banks can rightly be proud of the mobile banking services they have built over the past three to five years, but there's no time for them to rest on their laurels," the report says.
The Forrester report warns that the popularity of apps like Pocketbook pose a real threat to "disintermediate banks one day".
Pocketbook, which calls itself "the smartest finance app in the App Store", operates as a budgeting tool by connecting to users' bank accounts.
Mobile wallet apps are also increasing in popularity, with some Australian stores accepting payment by PayPal. Google's mobile wallet is currently being tested in North America, but will presumably reach local shores eventually if successful.
"Digital wallets integrating offers, coupons, payments, and loyalty rewards are poised to transform the way consumers shop and make payments, delivering more value, greater convenience, and a compelling, contextually relevant, experience," the report says.
Forrester recommends that Australia's digital banking teams:
Relentlessly test their mobile services to make sure they are easy to use,
use context-driven features to make customers' lives simpler,
help customers make better decisions by embedding money management,
develop relevant marketing offers and cross-selling capabilities,
define and plan how to execute their digital wallet strategy,
seek opportunities to create and deliver new value to customers, and
define what role they will play in a wider ecosystem of value.
Australia's big four banks successfully deliver the most important services to customers, including:
Quick and easy balance checking,
transaction history for 90 or more days,
easy-to-use and branch locators with detailed facility information and directions, and
various money-movement options.
Westpac's new app is the only one of the four that offers security services including the ability to report fraud, dispute a card transaction, block a card or order a new card.
Forrester recommends that banks integrate their mobile apps with CRM systems to deliver targeted, relevant messages to individual consumers triggered by time or location.
"Customers are assembling the solutions to their problems with a collection of instantly available digital products and services from your suppliers, partners, digital disruptors, other customers, and competitors," the report says.
"Your success demands that you embrace this new ecosystem and become a part of it by thinking differently about how you collaborate with other firms to create value for your customers."