Music industry predicted to turn to streaming service ad model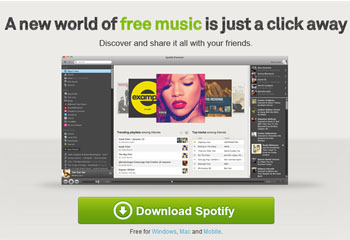 As Spotify prepares to launch in Australia, the music streaming industry looks set to emerge as the next big platform for our ad market, if the experience in the US is anything to go by.
According to AccuStream Research, media spend associated with US internet radio and music streaming services amounted to $293.7 million in 2011, a figure that is expected to grow by 78% in 2012.
With mobile apps for Spotify and Pandora also highly popular in the US, mobile ad opportunities are expected to be lucrative also. eMarketer expects US mobile music advertising revenues to hit $591.5 million in 2015, more than doubling 2012's forecast total of $264.5 million. The research firm believes the advertising component of mobile revenue will be much higher with music than it is with gaming or video.
Senior analyst and author of eMarketer's 'Cloud-Based Music Streaming: Emerging Opportunities for Brands' report, Paul Verna, predicts that this new generation of cloud-based streaming models will revive the recording industry.
"Key trends are pointing in the right direction, including positive technology adoption forecasts, a profusion of social sharing activity connected to music, video channels that are generating revenue and expanded marketing opportunities around music content," Verna says.
In a sign of how important online streaming and subscription music services have become to the music industry overseas, trade publication Billboard recently updated its weekly Hot 100 song chart to include data from Spotify, Slacker, Rhapsody, Cricket/Muve, Rdio and MOG.
The music industry may have no choice but to turn to a streaming business model. According to data from Nielsen, US digital track sales during the first quarter of the year decreased from 46.4 million to 27.1 million. In the same period, music streaming services registered a jump from 320.5 million to 494 million listens.
Spotify is expected to launch in Australia soon, with former Google Australia executive Kate Vale at the helm, and is advertising for an Australian and New Zealand marketing manager.