Pinterest drives more ecommerce revenue than Facebook and Twitter
Brands using Pinterest to drive traffic to ecommerce sites are reaping the rewards, with the one-year-old social network already driving more revenue per click than Facebook and Twitter.
Analysis from Convertro, which tracks the marketing performance for its clients across various channels, including Facebook, Twitter and Pinterest, found that Pinterest was generating up to four times the revenue per click as Twitter and 27% more than Facebook.
The research found that Pinterest is the fastest growing social media traffic source for ecommerce websites in terms of revenue, having grown from 1.2% of social media revenue in quarter two of 2011 to 17.4% in quarter one of 2012.
Facebook currently makes up the vast majority at around 80%, a share that is projected to erode to 60% as Pinterest assumes 40% of traffic by the end of quarter two. Based on these projections, Twitter is expected to fade into insignificance on the social commerce scene.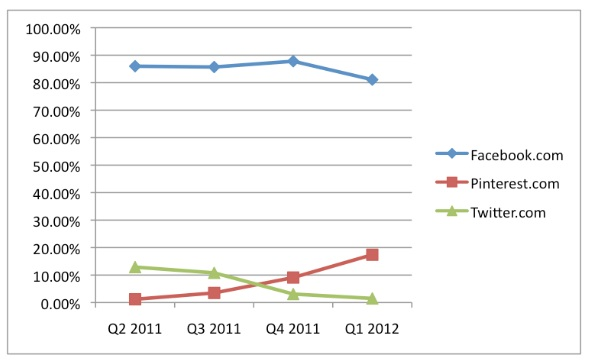 Writing on technology blog VentureBeat, Jeffrey Zwelling from Convertro, says Pinterest tends to introduce new customers to client websites, making it a 'top of funnel' marketing source. He writes:
"If you measure the big three social media sites on a 'first touch' revenue per click basis, Pinterest is the clear winner.  Being first is good because it indicates that Pinterest tends to introduce customers to retailers, instead of simply reinforcing users' previous interest in the site or providing a navigational method of getting to the site."
First touch is measured by tracking referral traffic from these different sources and looking at what resulted in revenue. On this basis, Pinterest generates around $0.18 per click, over four times as much as Twitter and 27% more than Facebook.
On a multi-touch basis (giving credit to every marketing channel regardless of its position in the purchase funnel) Pinterest is still the most productive social media source for e-commerce sites, generating $0.45 per click compared to $0.40 for Facebook and $0.23 for Twitter.
Zwelling suggest that, at a minimum, etailers add the 'Pinit' button to each SKU on their website.
To see how brands have started using Pinterest, check out our Top10 uses of Pinterest by brands story for some inspiration for using the new social network.