New Glad wrap cutter crisis- customer complaints spark reversal of box innovation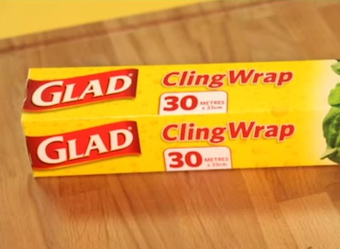 A swarm of customer complaints has forced Glad Australia to backpedal on a product innovation to its cling wrap cutter.
Despite supposedly being based on customer research, the new 'upside down' metal cutter blade on the Glad cling wrap box (moved from the bottom of the box to inside the lid) has proven unpopular… even anger-inducing.
"My boyfriend threw it over the fence when he used it," wrote Kerry Holmes on the brand's Facebook page.
Kerry Boulton described it as "60 metres of torture", while Katrina Bourke said she was at her "wits end with the new and unimproved version".
Numerous commenters on Facebook mentioned the product change inspired them to try competitors' versions, with which they were impressed.
Carolyn Jenner wrote: "You did me a favour by making me stand on my head to cut Gladwrap, because I threw the box with the Gladwrap in the bin and found Multix, a far superior and cheaper product."
Wayne Gore wrote: "I'm 'glad' you changed it. Otherwise I would never have been game enough to try the much cheaper Coles wrap, which I was surprised to find works just as good as the glad wrap, but doesn't have a dodgy cutter."
It appears the company initially responded to customer complaints by explaining itself and attempting to educate customers on how to use the new version of the product.
Here are a few comments by customers posted on Glad Australia's Facebook page:
Here's that YouTube video Glad Australia has been sending out links to:
Glad backflips
Glad Australia marketing director Phil James today told the Herald Sun:
"The explosion of conversation about the new cutter bar has been unprecedented. We simply could not ignore the magnitude of complaints."
Although he said the company was "working through this with urgency", the Herald Sun report says the change may take several months.
Glad wrote on its Facebook page this morning:
Following the overwhelming amount of feedback we have received, we are pleased to announce that we are going to change the cutter bar on all our Cling Wrap products back to its original location.

We are also maintaining the stronger box, the 50% better cling, the tighter seal, the easy roll start and easier box opening.

Our intention has always been to give consumers a better quality product, a better experience and better value; however, our loyal consumers have spoken passionately about the new packaging and this is something we won't ignore.

Once more, we would like to thank you for all your comments over the past few weeks. Our team will be working day and night to get the new product to people as soon as possible, so please bear with us and we will confirm timings very soon.

Thank you.