New online ad unit frames entire pages with video
Mi9 has launched a new ad unit which plays video in the masthead and side panels framing website content.
The 'video background' ad unit autoplays full screen in the background of the page, with the portions fitting in the masthead and side panels visible to the browser.
Launched in conjunction with Universal Music Australia (UMA) to promote the release of Lana Del Ray's new album, the ad unit plays a 15 second clip and allows users to click-to-buy the album direct from iTunes.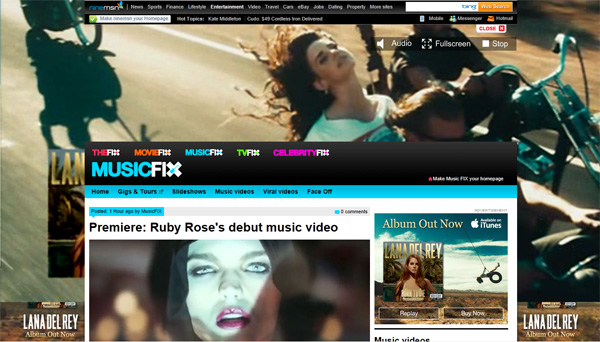 Managing director of Mi9 media, Matt James says the video background combines an imaginative use of the page real estate, with the power of video, to provide a compelling full-page brand message opportunity for advertisers.
Digital executive at MediaCom, Nicola Godsafe adds that the technique was chosen for the launch of Del Ray's new album released today – Born To Die The Paradise Edition – to gain standout in a cluttered market place.
The campaign for UMA, live on Ninemsn site MusicFix, features content from the single 'Ride' and, in addition to allowing viewers to click through to buy, acts as a teaser for the full 10-minute video clip.
The ad unit is the first to use a full video background, according to Mi9.