Top10 Aussie Guinness World Record-breaking marketing events
This year has seen a tremendous increase in record-breaking marketing events, says Australia's Guinness World Records representative, Chris Sheedy. Here he tells us about ten of the best world record-breaking marketing events in Australia (or, rather, nine, and one from New Zealand).
Patterns and trends are easy to identify when you've been in a job for 13 years. I joined Guinness World Records in London in 2000, the same year elite athletes were breaking records in my home town at the Olympic Games in Sydney. In 2004, when I came home to Sydney and the Olympic Games returned to their traditional home in Athens, I became Australia's go-to guy for PR agents, marketers and event managers keen to add record-breaking excitement to their event. Far from being just a book publishing business, Guinness World Records has a wealth of creative experts and often works in a similar fashion to creative agencies in helping brands come up with workable ideas for events and messaging. The result for the client and their participants is a world record, which is exciting on many fronts.
Typically my discussions led to four or five corporate record attempts in Australia each year, but the success of those events has meant that tally has grown to around 25 major events annually. The growth shows no sign of slowing, and why should it? The excitement added to an event, the greater levels of buy-in from participants and the increased media attention that comes with a record-breaking event press all the buttons for brands that seek the perfect mix of grass-roots marketing combined with mass-media coverage. A record event, particularly a mass-participation event in a public place, touches consumers personally and makes headlines nationally, and often internationally. Here are ten great examples.
World record: Longest radio interview
Who: Richard Glover and Peter FitzSimons, ABC Radio
This attempt was originally Richard Glover's idea. In fact, I believe it might have been inspired by his son, who was reading a Guinness World Records book one day and suggested the record to his father. Richard rang me and talked through the likely rules and regulations. Already he had the perfect interviewee in mind, the irrepressibly knowledgeable and talkative author and sports personality Peter FitzSimons. The attempt would spice up the typically quiet post-Christmas radio season and would help promote his show, and ABC Radio, at the same time. The record, which ended at 24 hours, earned international media attention. Richard and Peter were delighted to hear the story was reported as far away as China and the UK, on top of blanket media coverage in Australia.
World record: Most pizzas made in 60 minutes
Who: Domino's Pizza

Domino's Pizza is always looking at new, inventive marketing methods, and the company thrives on regularly challenging and breaking its own internal performance records. So it was no surprise when they decided to set an official Guinness World Record during a team building exercise. Many of the company's best and brightest from the Australian and New Zealand outlets were brought together in the Bundaberg Domino's Pizza restaurant for a weekend of pizza perfection. During the busiest hour of the Saturday evening, as pizza prices plummeted to attract hungry consumers, they pumped out 837 pizzas, breaking the previous world record by over 200.
World record: Largest toga party
Who: University of Queensland Union and Queensland University of Technology

By organising an event that was intended to speak directly to new students, the student unions of both University of Queensland and Queensland University of Technology were keen to show what they were capable of. They decided to go for the world's biggest toga party, which stood at 2166 participants. When 5000 tickets sold out in less than one hour the student unions were confident of success. Despite torrential rain on the night, 3700 soggy, toga-clad revellers at Brisbane's River Stage smashed the old record. "For a night that could have died a horrible death thanks to the torrential, flooding rain, it was a stunning success," said UQU's marketing manager. "We think the fact that an official Guinness World Record was going to be broken that night was what convinced people to show up no matter what."
World record: Largest breakfast in bed
Who: Priceline and Women's Health

Priceline Pharmacies has become somewhat of a serial record-breaking organisation, and they always do it in such style. In the past two years Priceline has set records for the most nails filed and varnished (eight hours), the largest make-up application class and this event, the largest breakfast in bed. All of the events have themes interwoven with the Priceline Sisterhood's charity partners, such as Look Good Feel Better, which helps out women recovering from cancer treatment. The big brekky was in partnership with Women's Health magazine and intended to make participants feel great about themselves. Around 85 beds were shipped in to Sydney's Martin Place and 289 people in those beds were given a freshly-cooked breakfast. The result? Great media and smiles all around.
World record: Longest bikini parade
Who: The Gold Coast Bulletin

In what is both a record from late last year and an upcoming attempt late this year, the good people at The Gold Coast Bulletin decided to attract international attention to their stretch of beach by organising the longest bikini parade. The previous record stood at 331 bikini-clad women doing the one-mile parade (Cayman Islands, 2010), and the organisers were convinced they could knock it off. Would I like to come along to adjudicate? Why yes, I would! And it really was one of those perfect Queensland days. The weather could not have been better. The result was impressive too, with a new record of 357 women wearing bikinis. Media attention was enormous and international, so much so that Panama City Beach went on to break this record in March this year with 450 women. Then in August in Huludao City, Liaoning, China, 1085 ladies marched a mile in two-pieces. The people at The Gold Coast Bulletin want their record back, and are currently planning another event for late this year. Keep your eyes peeled…
World record: Longest television interview
Who: CUE TV New Zealand

Having heard about the longest radio interview on the ABC, TV station owner and interviewer Tom Conroy from CUE TV in Invercargill, New Zealand, decided to attract national attention by creating his own record, the longest TV interview. He did so by interviewing storyteller extraordinaire Tim Shadbolt, one of New Zealand's most fascinating and controversial figures, and current mayor of Invercargill, for 26 hours. And it really was a mesmerising chat. I was required at the record attempt for the first four hours and the last four hours. In between I was free to be a tourist, sleep etc. But I stayed for a total of 21 hours because Shadbolt's stories were so captivating.
World record: Largest circuit class
Who: Michelle Bridges, 12WBT

Michelle Bridges and her 12WBT team approached Guinness World Records looking for ideas around an event that would bring together their loyal members from around the nation and make them feel rewarded. A major fitness event – the world's largest circuit class – was decided upon and a park by the water in Melbourne's St Kilda was earmarked as the location. The event itself was flawless, and some participants actually crossed oceans to attend. There were 1165 participants, smashing the previous record from the USA of 317, and they all went home a little bit fitter, a little bit lighter, and with the knowledge that they had just broken a world record.
World record: Most people wearing wigs
Who: Blatchy's Blues (State of Origin)

At State of Origin game two in 2012 Dan Blatch, founder of Blatchy's Blues, thought he could break a record and in doing so bring attention to the game he loves so much, the team he lives for and the thousands of people that have become his loyal followers. A sea of blue wigs (12,083 to be exact) confirmed his suspicions, and a small army of witnesses sent out to count them confirmed the record. The attempt was heavily supported by the NRL, earned respectable media coverage – particularly during the high-rating game – and spurred the Blues on to their only win of the three-game series.
World record: Biggest drumming lesson
Who: World Arts and Multi Culture Inc

The Taiwanese community in Brisbane, in order to say thank you to the people of Brisbane for integrating them so comfortably, put on the inaugural Taiwanese Festival. At this festival organisers wanted to create an unforgettable stunt that would draw media attention and excite and attract participants. They went for the largest drumming lesson using the Bolang Gu, the traditional Taiwanese hand drum. It was an enormous success, attracting 1651 participants, earning international media coverage and attracting high-ranking figures from the Australian and Taiwanese political and business scenes.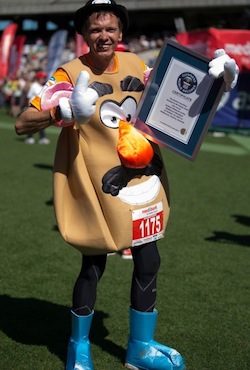 World record: Fastest marathon dressed as Mr Potato Head
Who: World Vision / Andrew McKenzie
In order to help promote Team World Vision and its fundraising efforts via various marathons around the globe, mild-mannered Melbourne marketer Andrew McKenzie – who I'd previously met in outback South Australia at a successful attempt on the world's fastest production ute – ran a full marathon dressed in a Mr Potato Head outfit. Amazingly he almost ran a personal best with a time of three hours, 38 minutes and 20 seconds. In doing so, Andrew smashed the current record and was cheered and publicly announced as he ran into the MCG to finish the run. "The best part was when people I ran past said to me, 'Slow down, I don't want to be beaten by a potato'," Andrew said.