Fairfax slams the ABC for running ads on YouTube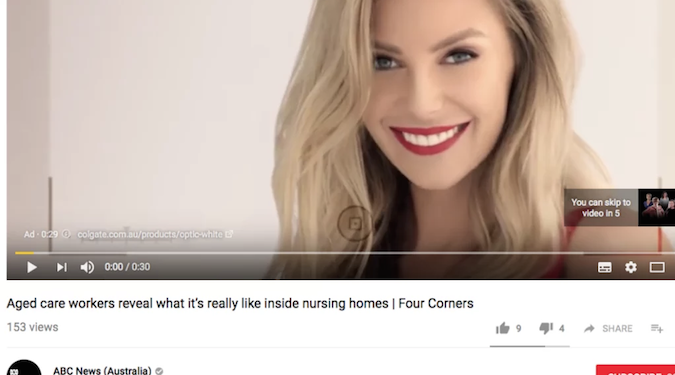 The ABC is again under fire from FairFax media, this time for running advertisements on its content posted on YouTube. ABC boss Michelle Guthrie has also been asked to leave the company.
A piece from The Sydney Morning Herald (SMH), a Fairfax publication, by Jennifer Duke and John McDuling found The ABC has been running advertisements on its various YouTube channels despite alleged regulations preventing the body from doing so.
"Australians who thought the Australian Broadcasting Corporation did not accept advertising can easily find brands like KFC, Cadbury and Twinings showing up around some of the public broadcaster's content. All they need to do is head to YouTube," write Duke and McDuling.
Public broadcaster legislation does prevent the ABC from having advertising on its own channels (including its on-demand offering 'iView'). However, as Duke and McDuling point out, the legislation does not cover the ABC's content being shared through external means such as Google's YouTube.
"In accordance with the ABC Act, all content on ABC platforms and services is advertisement free," a spokeswoman for the ABC told SMH.
"In recent years, the ABC has made some of its content available on third-party platforms and services to ensure we remain relevant, engaging and accessible to all Australians by offering them high-quality and distinctive content when and where they want it.
"Any cost savings or revenue to the ABC is fed back into the organisation to create and deliver more Australian content to audiences."
With more than 700,000 subscribers on YouTube, yhe ABC's largest channel, TripleJTV, has also been found hosting advertisements from brands including Wrigley's, Grammarly and KFC.
Also announced today, former Google executive and current ABC CEO Michelle Guthrie will be leaving the company. Current director of entertainment and specialist David Anderson is set to fill the position until a permanent candidate is found. Guthrie expressed her disappointment with the board's decision in a statement today, hinting at the possibility of legal action, "I am devastated by the board's decision to terminate my employment despite no claim of wrongdoing on my part.
"While my contract permits the board to terminate my appointment without cause and with immediate effect, I believe there is no justification for the board to trigger that termination clause. I am considering my legal options."
Further Reading: