Jesus ham, community and cliff faces – Aldi unveils Christmas brand platform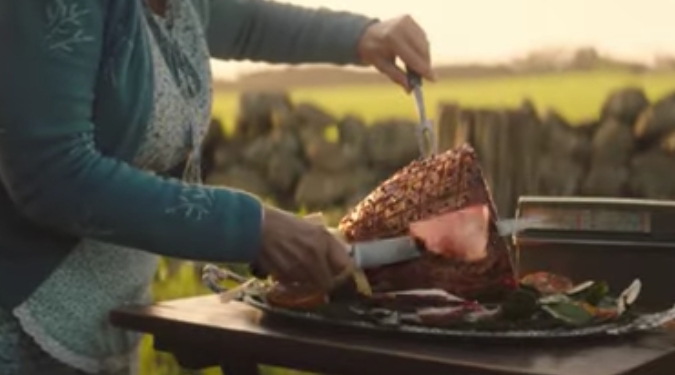 Aldi is focusing on the Christmas ham as central to its holiday brand platform, bringing on BMF to tug on Australian heartstrings once again.
The new Aldi spot features an elderly lady preparing her regular Christmas ham, only to discover she's produced an inexplicably infinite one – not unlike a certain basket of bread and fish. Marching around her community, she collects disciples enchanted by the ham's powers, culminating in a cliff-side community feast.
"Ham is often the main event at Christmas lunch. And, in the week after, every time you open the fridge, there seems to be ham leftovers staring back at you," explain BMF creative directors Dantie van der Merwe and David Fraser.
"A pork prodigy felt like the right blend of truth and fiction for this year's 'More the Merrier' Christmas story."
Last year, Aldi garnered plenty of praise with its 'Santa Crashes Christmas' spot, relying on a similar focus on community and Aussie mateship. Read Marketing's full coverage »
"'The More the Merrier' is an idea that places ALDI right where it should be at Christmas – between the Aussie generosity of spirit and the reality of not blowing your budget sky-high," said BMF executive director Alex Derwin during last year's campaign release.
BMF group account director Aisling Colley says the long-standing creative platform 'The More the Merrier' is a "perfect expression of generosity" at Christmas.
"It perfectly captures the Australian spirit (and the effect of a magical ham), while demonstrating Aldi's promise to Aussies at this festive time of year – a surprising range of exceptional products, at the lowest possible prices," says Colley.
Aldi Australia marketing director Mark Richardson says the 'Miracle Ham' spot represents the value in Aldi products. "Christmas is the time of year that Australians want to spoil their families, however there can be a misconception that to get the best-quality Christmas feast, presents and experience, you need to spend big.
"The never-ending ham in our 2019 Christmas campaign is a sentiment to the value you can get at Aldi. With great prices across our entire Christmas range, you can afford to spoil your guests… on any budget."
Further Reading:
Image credit: Aldi