Australian advertisers pay three and a half times more for ads on Facebook
A Socialbakers study reveals Australian advertisers pay three and a half times the global average CPM on Facebook.
A study by Socialbakers found that Australian advertisers a paying three times the global average for costs per mile (CPM or cost per thousand impressions) on Facebook. The study analysed Facebook data between February of 2017 and 2018, and found that despite steady growth on an international scale, advertisers from Australia and the US are consistently paying more.
Spanning a year since February 2017, Facebook's CPM for Australian marketers has risen from US$3.90 (AU$5.00) to US$6.10 (AU$7.82), while the global average stands at US$1.70 (AU$2.18).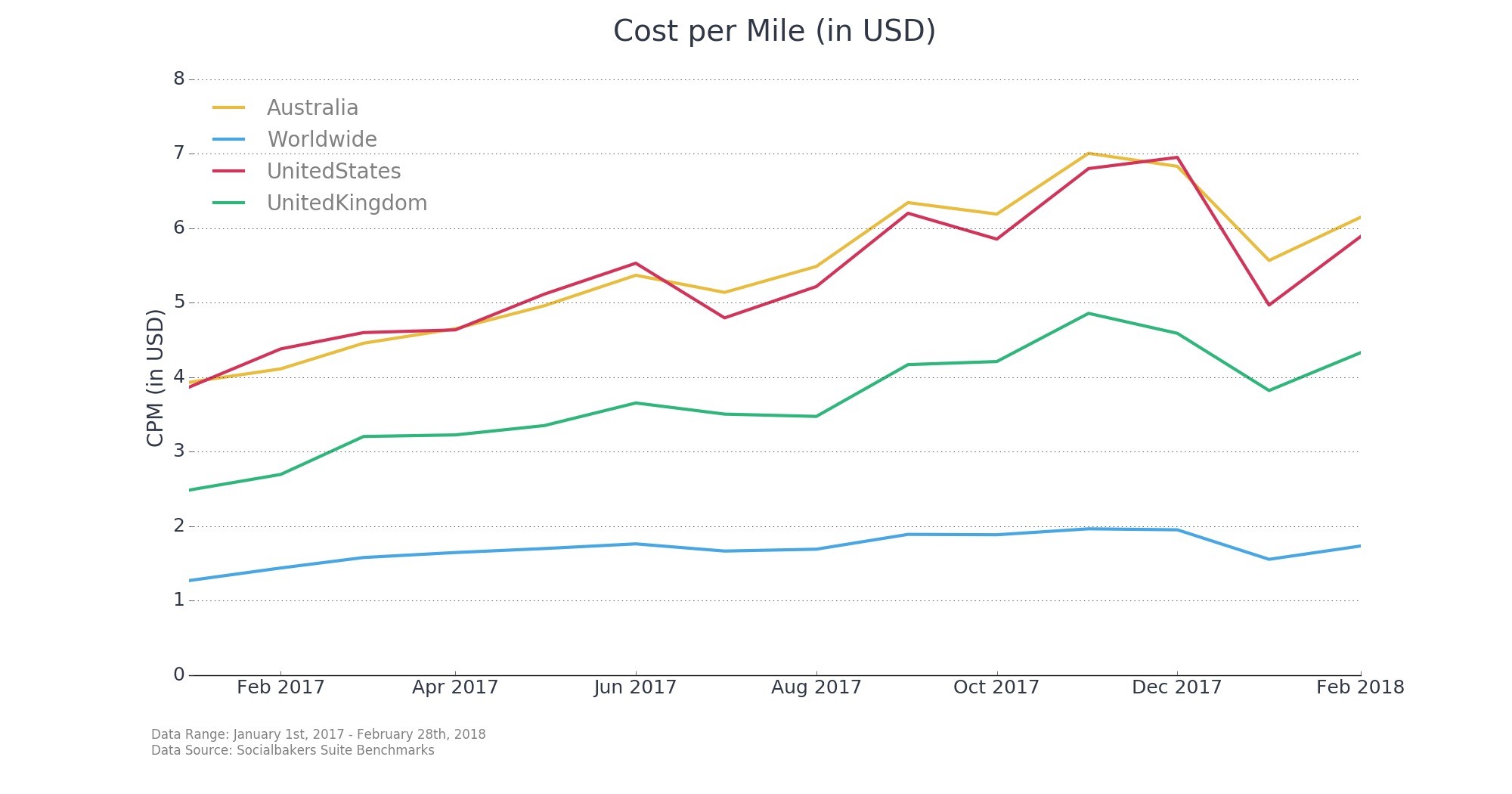 "There are multiple reasons why ad costs are higher in Australia" says Socialbakers CEO Yuval Ben-Itzhak. "The maturity of the market, the volume of advertisers, which leads to higher competition in for paid feed, as well as user behaviour".
In addition, the Socialbakers' data found that despite Australian marketers paying more for ads on Facebook, the click-through-rate (CTR) is consistently lower than the global average.
In November of last year Facebook announced significant changes coming to its advertising policies, accompanied with a blogpost from Rob Goldman, VP ad products. The changes came after accusations of Facebook not doing enough to manage fake news, brand safety and privacy issues on the platform. Goldman writes "as people's behaviours change, we'll continue listening to feedback to improve the ads people see on our service."
With growing costs for Australian advertisers, coupled with a lower than average CTRs, Facebook may see an exodus from its main platform to Instagram. A different Socialbakers study found that since Instagram launched Stories in 2016, the feature has grown to a daily audience of over 300 million active users. With Stories now containing 46% of user engagement on Instagram (relative to traditional posts), Socialbakers found that brands included in the study were able to increase impression rates by 19% when starting to posting on Stories, which is free.
Further Reading:
Image copyright: nevodka / 123RF Stock Photo