The Experience Issue – Marketing Magazine launches its February/March 2018 edition
Marketing is pleased to announce The Experience Issue, our February/March 2018 print edition.
It is reaching subscribers and hitting newsstands now, and is available for purchase here »
Exploring experience from a number of points of view, we: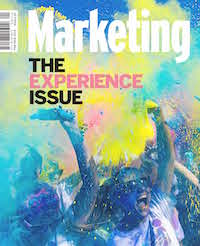 … understand the current state of experience marketing, looking at some case studies of brands doing it best.
… compare the value of experience versus qualifications in marketing professionals.
… hear from a Harvard neuroscientist about how memory works and marketing communications stick.
… see how AI can enhance your next event.
… understand the current state of disappointing CX.
… explore how voice technology is revolutionising the way consumers interact with technology and brands.
… understand employer brand, and how your employees' experience influences brand strength.
… hear from our team of expert columnists.
* * * * *
To purchase a copy of The Experience Issue, or a subscription to Marketing magazine, visit the online shop »
* * * * *