Brands, briefs and lifestyles: your guide to managing global campaigns
A thorough understanding of brand values, a clear brief and a focus on creativity will help make your global campaigns a hit, says Graeme Sanford.
This article was sponsored by Sanford Partnership to outline and explore the effective management of global campaigns.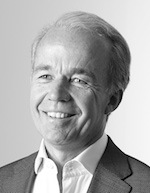 Developing global campaigns that are relevant, clearly position a brand and product in a matter that appeals to worldwide consumers, and extend to all forms of advertising is challenging. The key is to keep it simple but relevant, memorable and motivating. Understand the brand, the brief and the lifestyle at which the product is targeted.
The brand
When dealing with clients for global campaigns, it's imperative to have an understanding of what the head office really thinks. It's very simple, but it's often forgotten. If you don't recognise the head office mission statement, you'll run foul of the message straight away.
Why is the company in business? What are its beliefs? Our client – Suzuki Motor Corporation and Suzuki Australia – is very clear in its mission to focus on consumer needs and develop products that are of superior value. It's not out there saying 'we are the fastest' or 'we are the biggest.'
Suzuki has been in constant evolution in terms of where it started and where it is now. Originally it manufactured weaving looms and literally strapped motors onto bicycles. Now it develops motorcycles, automobiles, outboard engines and more. It's been a long journey, but the company has always been honest with itself in saying 'we produce great value product and we will specifically aim them at customers' needs.'
Its brand mission is clearly stated: providing value for customers across its range of products.
Once this is made clear and is understood, it's a matter of ensuring that the creative that consumers see in global markets will align with that mission statement.
The brief
Managing a global campaign is like managing any other. It all comes down to the brief. You want a brief with depth and detail that makes the client's wants and needs very clear. Does its brief – from a global viewpoint – sit comfortably with the global positioning it wants for its product?
Along with this is the need to be very clear about the requirements and the timing in terms of production and delivery. Finally, budget.
Properly examine the brief at the beginning. If there's anything you're unsure about, this is the time to raise questions for clarification.
Unexpected difficulties can arise in global campaigns. Fortunately for us, briefs from Suzuki Motor Corporation are circulated to a number of international offices to the appropriate marketing head, who confirms whether or not the brief is suitable for its particular market. Some may come back with issues, adjustments or changes.
This organised infrastructure ensures difficulties are overcome through effective collaboration between creative developers, corporate head office and local market management.
The campaign
You don't have to go far from home to start developing a campaign that will go global. Start with Australia. What do Australian consumers want from the brand? What do they see? Build a strategy around that, then apply it to the international markets, while maintaining that global consistency. Poorly conceived ads in one market can damage the entire brand and many global advertising concepts get lost in translation. The challenge is developing global advertising that's relevant, that positions the brand in a manner that will appeal to worldwide consumers and can be extended to all forms of advertising.
Lifestyles, not demographics
Sometimes, creative that works for one market won't be suitable for others. Lifestyles are critically important and alleviate the difficulty of trying to understand target demographics in a range of countries and cultures. More and more smart brands are cottoning on about this. For this, the creative storytelling must demonstrate the brand attributes to appeal to the values and lifestyles of those receiving the message.
A strong visual element is probably the most important thing. Let the pictures tell the story. This makes translating a campaign into other languages and markets so much easier.
Visuals as the storytelling device ensure people get the message, no matter where they are. Simplicity helps, too.
Promoting a product like the Grand Vitara, a four-wheel-drive SUV, is an example of one where lifestyles are important. It has an attraction through a range of demographics, so for campaigns we include strong visuals that indicate the enjoyment and the places it can take you.
The overall process must offer creative that respects all the international markets and their populations. It must understand the values and motivation of people's needs, actions and desires.
Never forget who is your client in Australia.
Graeme Sanford, FAMI, CPM, is managing director at The Sanford Partnership.
Sanford Partnership is an independent full service creative advertising agency. To find out more about building brands and achieving results, click here.
Latest from Sanford:
Everything a marketer needs to know about managing suppliers and partners in challenging times:
– Which functions should be addressed in-house?
– Which should be outsourced?
– What a solid agency relationship looks like
– Expert commentary from Sanford Partnership
– Convergence
– Global campaign case study
Image copyright: rawpixel / 123RF Stock Photo