"Heartless" – Heart Foundation's latest 'Serial Killer' work sparks social media outrage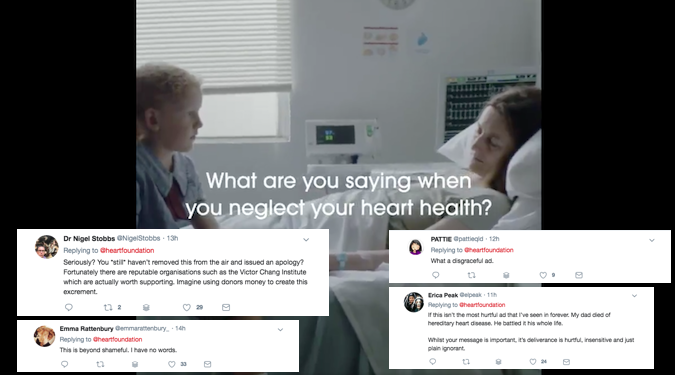 Following a successful launch earlier in the year, the latest instalment of Heart Foundation and Host/Havas' 'Serial Killer' campaign is receiving some serious online backlash.
Update (29 May): Heart Foundation has since released an amended version of the 'Heartless Words' spot, removing one of the more controversial scenes. More information below.
The original brand campaign launched in early February, when Heart Foundation partnered with News Corp to compel government action on heart disease.
The latest iteration of the 'Serial Killer' campaign, 'Heartless Words', focuses on the broader effects heart disease has on those around its victims.
Describing 'Heartless Words' as a "powerful and provocative" campaign at launch, the Heart Foundation said the campaign was designed with creative agency Host/Havas Australia as a reminder of what's at stake when you neglect your heart health issues and the importance of heart health checks.
Heart disease doesn't just affect you. It also devastates your loved ones. Look after your heart and theirs. Visit your GP for a Heart Health Check today https://t.co/TMsivMpqry #showsometicker pic.twitter.com/E6uGagjDTr

— Heart Foundation (@heartfoundation) May 27, 2019
Since the ad has been released, it's received some heavy criticism online. One particularly prominent voice on the issue has been Dee Madigan, ECD at Sydney creative agency Campaign Edge, "Imagine how any kid who has lost a parent to heart disease feels when hearing this."
Just heard a @heartfoundation ad with a little kid saying 'Mum never loved me. If she did she would have looked after her heart' This isn't just bad, this is a terrible terrible ad. Imagine how any kid who has lost a parent to heart disease feels when hearing this

— Dee Madigan (@deemadigan) May 27, 2019
Other critiques from Twitter users appear to echo Madigan's sentiment, that as opposed to raising awareness of the impacts heart disease can have on family and loved ones, the ad instead frames victims of heart disease as selfish and insensitive.
I'd suggest you take this down and have a good think about how this message will be received by kids who have lost a loved one to disease.

What next? Those who die from cancer didn't battle it hard enough?

Perhaps you need contrarian perspective within your bubble. pic.twitter.com/KZbCTq5R7w

— daniel (@swissfondue63) May 27, 2019
Absolutely shameful excuse for an ad attempting to raise awareness of heart health. Opting for shame, manipulation & guilt over providing evidence-based information is a yuck move.

— Katherine O'Meara (@KathOMeara) May 27, 2019
Heart Foundation: "Eat McDonald's!"

Also Heart Foundation: "If have issues with your heart, you are a horrible and evil person incapable of caring about your family"

— Psyberus (@Psyberus) May 27, 2019
"We are monitoring comments about the campaign and are aware aspects may upset some people," Heart Foundation CMO Chris Taylor tells Marketing.
"Heart disease takes a terrible toll, individually, socially and economically, but Australians have become dangerously complacent about the impact of heart disease."
"This campaign will help to avoid thousands of heart attacks, strokes and deaths, meaning many more Australian families won't have to endure the same tragic loss as others before them."
During the 'Heartless Words' launch on Sunday, Taylor described the Heart Foundation's approach to the issue as "fearless."
"We are encouraging Australians to take one action that will make a significant impact on their own heart and the hearts of those they love," Taylor said in a statement.
"The team at Host/Havas has shown that they're the ideal creative partner to help us turn the tide of complacency towards heart disease."
Smooth start
The original campaign, created in collaboration with News Corp's media and marketing division Newsamp and Host/Havas, was received with plenty of praise.
'Serial Killer' rolled out across print, digital and broadcast in February, launching with double page spreads across News Corp's Sunday metro newspapers and takeovers of several News Corp-owned digital mediums including True Crime Australia and news.com.au.
The campaign even succeeded in its original goal of motivating government action. Toward the end of February, just one week following the campaign's launch, Heart Foundation announced it had received bipartisan support and that Medicare will now fund heart health checks for all Australians.
"It's an amazing result. Good marketing can truly save lives," Taylor said at the time.
It is yet to be seen if the backlash to the 'Heartless Words' component of the campaign will be enough to poison the well in an otherwise successful brand campaign.
Update (29 May): Heart Foundation has today released an amended version of the ad.
The updated spot remains relatively the same, sans the opening scene picturing a mother telling her child "every time I told you I loved you I was lying – you are not my priority."
"We apologise if we've caused offence to anyone," says Heart Foundation Victoria chief executive Kellie-Ann Jolly. "We appreciate the feedback and we have responded by no longer using the scene."
Though one of the more controversial moments within the spot has been removed, the message that sparked the original backlash still remains prominent.
"We realise that not everyone will agree with our approach. However, our intention is from a good place, to save lives," concludes Jolly.
Further Reading:
Image credit: Heart Foundation