It's that time of year, sports fans – here's MarketingMag's Super Bowl 2020 ad wrap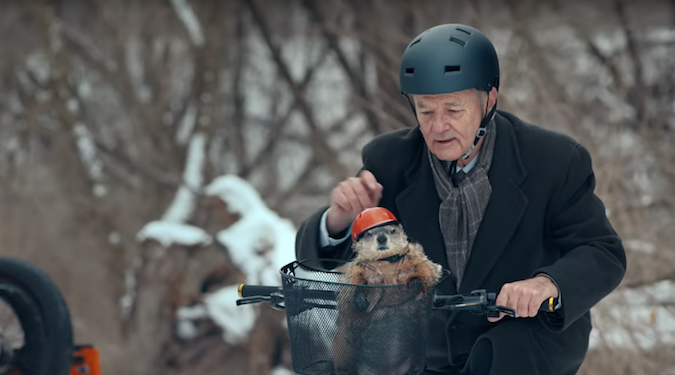 Super Bowl 2020 brings with it the same level of big budgets, jokes, messages, cringeworthy moments and celebrity appearances that we've come to expect from the day.
Forty-three brands this year released their commercials before today's live broadcast, that's up from 30 last year, AdAge reports. In alphabetical order, here are all of the Super Bowl ads in one place (hope you didn't have too much work planned today).
Amazon
Ellen DeGeneres and Portia de Rossi try to remember what life was like before Alexa.
Amazon Prime Video
The streaming service is using a Super Bowl slot to promote its upcoming series, Hunters.
Audi
Audi's ad explores the changing world, climate change and the move away from fossil fuels. Game of Thrones star Maisie Williams stars in the new fully electric E-tron from Audi.
Avocados from Mexico
Molly Ringwald shows up in this mock shopping network infomercial promoting avocado products.
Bud Light
Post Malone appears in this commercial, which won a social media poll to appear on the Super Bowl; Budweiser released two commercials online and asked viewers to choose their favourite. It introduces Bud Light's new range of alcoholic seltzers.
Budweiser
This one celebrates typical Americans doing extraordinary things.
Coca-Cola
Jonah Hill almost flakes on Martin Scorsese in this ad for the beverage giant's new Coca-Cola Energy drink.
Cheetos
The brand launches its new Popcorn options with an appearance from MC Hammer himself in 'Can't Touch this'.
Discover
A range of 'yes' snippets from film and TV celebrate the fact that Discover cards are accepted at more than 95% of places in the US.
Doritos
Lil Nas X and Sam Elliott dance off to 'Old Town Road' for a packet of Cool Ranch Doritos.
Facebook
Facebook celebrates a range of Group communities set up on its platform with 'Ready to Rock'. Features celeb appearances by Chris Rock and Sylvester Stallone.
Genesis
John Legend and Chrissy Teigen star in this ad for Genesis, Hyndai's luxury division. Legend and Teigen host a going away party for old luxury and welcome new luxury – the new GV80 SUV.
Google
This one tugs at the heartstrings as an elderly man reminisces about his late wife, with help from Google.
Hard Rock
Michael Bay directed this commercial starring Jennifer Lopez, Alexander Rodriguez, Pitbull and DJ Khaled.
Heinz
Four different groups encounter four different meals, each of which is saved by Heinz tomato sauce.
Hulu
This ad for the streaming platform features Tom Brady hinting at retirement before backing out.
Hummer
The auto manufacturer has teased its upcoming electric car with the 'Quiet Revolution' commercial featuring star NBA basketballer LeBron James.
Hyundai
A handful of Boston celebs do Boston accents as this wicked smaht car parks itself.
Jeep
Jeep's ad sees actor Bill Murray rehash his role in Groundhog Day. Jeep released the ad at 6am local time on game day, which in the US coincides with Groundhog Day. The ad plays on the theme of the film and ends with the tagline 'no day is the same in a Jeep Gladiator'.
Kia
Las Vegas Raiders running back Josh Jacobs delivers an inspirational message to his younger self in this 'Tough Never Quits' ad introducing the Kia Seltos.
Little Caesars Pizza
Rainn Wilson stars as a business leader working at Sliced Bread who must now contend with Little Caesars' new delivery service – 'the best thing since sliced bread'.
Michelob Ultra
Late night TV host Jimmy Fallon is joined by pro wrestler John Cena, The Roots, sprinter Usain Bolt, golfer Brooks Keopka and beach volleyball stars Kerri Walsh Jennings and Brooke Sweat, in this ad pushing Michelob Ultra as a post-exercise beer.
In another spot, Michelob promotes organic farming by way of its 'six for sixpack' program; for every six pack of Michelob Ultra Pure Gold sold, the brand will help transition six square feet of land to organic farming.
Microsoft
Microsoft's ad celebrates the career and contribution of Katie Sowers, offensive assistant coach of the San Francisco 49ers, who today makes history as the first woman to ever coach in a Super Bowl.
Mountain Dew
In this The Shining spoof, Bryan Cranston and Tracee Ellis promote Mountain Dew's Mtn Dew Zero sugar free option.
New York Life
The insurance company's ad celebrates the four ancient Greek categories of love, culminating on agape – love as an action – showing people demonstrating their selfless love through sacrifice, courage and strength.
Olay
Actor Busy Philipps and YouTuber Lilly Singh join astronaut Nicole Stott, launching into the cosmos to see if there's space for women in space. Olay has pledged a US$1 donation to Girls Who Code for every tweet of #MakeSpaceForWomen @olayskin, to a maximum of US$500,000.
P&G
A number of P&G products save a would-be party disaster.
Pepsi
The cola challenger brand reintroduces its zero sugar option in this ad featuring Missy Elliet and H.E.R.
Planters
At a funeral for legacy mascot Mr Peanut, Mr Peanut is reincarnated as a baby peanut, and announces he's here to stay.
Pop-Tarts
Queer Eye fan favourite Jonathan Van Ness introduces Pop-Tarts' new Pretzel range.
Porsche
In 'The Heist', a selection of vintage Porsches pursue the all new, all electric Porsche Taycan.
Pringles
Rick and Morty gets stuck in a Pringles commercial.
Quibi
The 'Bank Heist' ad for the new short-form mobile video platform leaves a team of bank robbers with four to 10 minutes to spare.
Reese's
An ad promoting the Take 5 bar features a range of idioms.
Rocket Mortgage
Jason Momoa kicks back at home.
Sabra
A range of celebs share how they eat hummus.

SodaStream
A space exploration team discovers water on Mars.
Snickers
"The world is out of sorts" sings the chorus in this ad. Can the people save the world by feeding it a Snickers?
Squarespace
Winona Ryder stars in this ad where she's making an ad about the town of Winona, Minnesota.
T-Mobile
Black-ish star Anthony Anderson convinces his mother to switch 5G providers to T-Mobile.
Tide
Charlie Day ponders when he'll wash his shirt.
Toyota
Cobie Smulders of How I Met your Mother rolls up in a new Toyota to rescue a number of people from fictional disaster scenarios.
TurboTax
The 'All People are Tax People' music video celebrates diversity, and one factor that unites all people – paying tax.
Walmart
Famous visitors from pop culture history take advantage of Walmart's free pickup option.
WeatherTech
Pet products brand WeatherTech is using its ad to appeal for donations to the School of Veterinary Medicine at the University of Wisconsin-Madison.