Newspaper audit data: Digital up, but is it increasing enough?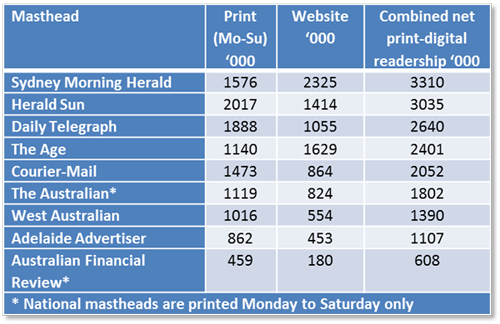 April to June's newspaper readership figures have been released with the reassurance, once again, that combined print-digital masthead readership has never been higher, as the increase in digital views outweighs the dip in print circulation.
While newspaper circulation fell by 6% year on year in the April to June 2012 audit period, metropolitan digital sales show quarter on quarter growth of 64% according to the Audit Bureau of Circulation (ABC).
Circulation, as well as readership, of print declined across all publishers. For the majors, circulation of national titles declined by 2.2% Monday to Saturday, while metropolitan titles slumped by 6.2% Monday to Sunday. Roy Morgan's readership data shows declines for print versions of the major titles of between 2% and 15%.
The Newspaper Works' CEO, Tony Hale, was quick to reinforce that despite the fall, there had never been more Australians reading newspapers in both a printed and digital form.
"The fact that 18.4 million copies of newspapers are sold each week supports the assertion that there is a strong future for the printed newspapers in Australia." Hale says. "There is a lot of life in the printed product yet."
Combined print-digital readership figures, released for the first time under Roy Morgan's hybrid consumer recall and machine based measurement tool for websites only, place Fairfax's the Sydney Morning Herald as the leading masthead with 3.3 million people reading the publication weekly.
News Ltd, which has erected paywalls for premium content on its websites for The Australian and Herald Sun, commands second and third place for the most read publications, with the Herald Sun boasting a combined readership of 3 million weekly and The Daily Telegraph reaching 2.6 million weekly.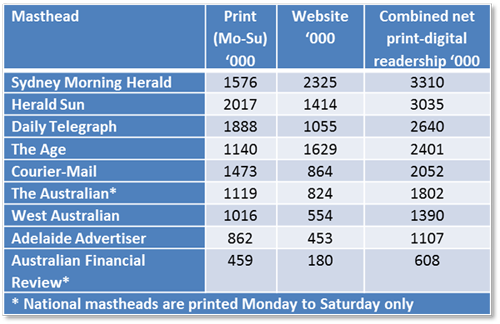 CEO of Fairfax's Metro Media business, Jack Matthews, says the migration of readers from print to digital is industry-wide, with no publication immune to the shift in consumer behaviour.
"We are right to be focusing on the digital and mobile expansion of all of our mastheads so we can capture as much of that shift as possible," Matthews says. "We're doing so to make print sustainable for the future and we're doing so from the best possible position as shown in the first total masthead readership results."
Circulation of the nation's three largest broadsheet papers declined by 10.4% to 11% year on year during the current period.
The Australian lost 0.7% to 2.5% across the week in circulation, and fell 3.5% to 6.1% in readership.
The Sydney Morning Herald shed 14.7% across the week in circulation, and lost 8.7% to 13.9% in readership. For its digital editions, the masthead took in 52,663 (up from 36,816 in January to March) in paid sales on Monday to Friday, resulting in a combined digital and print sales figure of 192,740 (down from 198,335 in Jan-Mar). Saturday's combined figure totalled 308,249 (down from 310,410 in Jan-Mar) readers, with 56,058 (up from 40,158 in Jan-Mar) paying for digital editions.
The Sun-Herald shed 9.7% of circulation and 9.7% of readers. Paid digital editions were sold to 52,340 (up from 40,268 in Jan-Mar) to give the masthead a combined paid circulation of 363,339 (down from 402,350 in Jan-Mar).
The Age fell 13.2% to 14% across the week in circulation, and declined by 13.6% to 13.7% in readership. Digital sales of 23,811 (up from 9,311 in Jan-Mar) on Monday to Friday took the overall masthead paid circulation to 180,833 (up from 170,005 in Jan-Mar), while on Saturdays 25,060 (up from 9,369 in Jan-Mar) bought digital editions, taking Saturday combined masthead sales to 246,161 (up from 245,597 in Jan-Mar).
The Sunday Age dropped 14.6% in circulation and 12.3% in readership, while the digital edition sold 24,782 units (up from 9,376 in Jan-Mar) to take total masthead sales to 200,950 (down from 210,650 in Jan-Mar).
Circulation of national newspapers dropped by 1.8% to 3.2% year on year across the week. The Australian Financial Review suffered greater losses than The Australian, down by 3.7% to 5% for circulation and 2% to 11.3% in readership.
Metropolitan papers declined by 6.2% in circulation Monday to Sunday year on year.
The Daily Telegraph was down by 1.2% to 1.4% across the week in circulation and 9.4% to 11.4% in readership. Sunday's Telegraph was down by 1.9% in circulation and down 8.8% in readership.
The Herald Sun lost 5.1% to 6.4% in circulation across the week, and 12.4% to 12.5% in readership. On Sunday, the Melbourne paper dropped 7.8% of its circulation and 14.5% of its readership.
In Queensland, The Courier-Mail experienced greater declines on Saturday (-8.6% circulation) than Monday to Friday (-8.6% circulation), and The Sunday Mail dropped 7% in circulation.
South Australian and Western Australian metropolitan mastheads experienced milder declines, with the Advertiser down 0.6% Monday to Friday and between 2.8% and 4.6% for its weekend editions, and the West Australian down 1.2% on average across Monday to Saturday.
Regional papers lost 6.8% of their circulation across Monday to Sunday.