NRMA Motoring and Services wins Multicultural Marketing Award for big business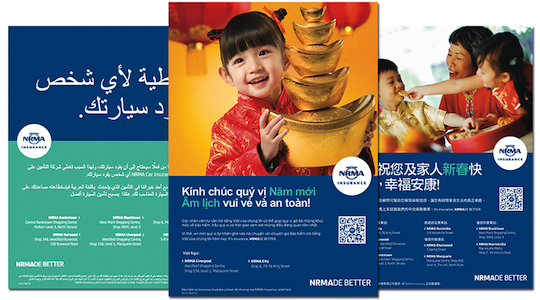 NRMA Motoring and Services has won the Australian Multicultural Marketing Award – big business for its its 'Motor Value Bundle' campaign targeted to the Sydney Chinese community.  
NRMA used above-the-line Chinese language advertising and utilised its existing Chinese language-speaking staff members to achieve an 80% uplift among its target market compared with other sites outside the test market.
"Due to the success of the campaign, NRMA has increased its capacity and ability to track and analyse multicultural marketing activity and has plans to explore future multicultural marketing engagement with the Chinese and other ethnic markets," NRMA channel marketing manager, Angela Tobin, says.
Minister for multiculturalism John Ajaka spoke at the gala reception at Sydney Opera House:
"Good campaigns use the strength of a multicultural workforce to deliver a message that is not only about increasing sales, but also grabs our imagination and adds to our social cohesion and community harmony. Tonight's winners have displayed creativity, hard work and dedication."
Marketing's profile on NRMA Motoring and Services head marketer Jana Kotatko goes into more detail about the company's marketing strategies.
AMMA winners 2015
Big Business
Winner: NRMA Motoring & Services – Motor Value Bundle campaign.
Small Business
Winner: Gould.Sydney – '2015 Project Highlights', and
commendation: Chinese Commercial – 'Promoting Australia to China'.
Public Sector
Winner: Centre for Health Initiatives, University of Wollongong and Multicultural Health Service Illawarra Shoalhaven Local Health District – 'Cancer Good News Project: Reducing Cancer Stigma in Macedonian and Serbian Communities'.
Communication
Winner: Special Broadcasting Service (SBS) – '40 Years of SBS Radio'.
Arts and Culture (joint winners)
Winner: Australian Macedonian Theatre of Sydney – 'The Fence: Living in Harmony Project', and
winner: Access Community Services Ltd – 'Ethno Roadshow'.
Communities
Winner: Netball Australia – 'Australia Post One Netball Program', and
commendation: Islamic High Council of Australia – 'Multicultural Mawlid Concert'.
Youth
Winner: Cricket Australia – 'Multicultural Engagement', and
commendation: Australian Rugby League Commission – 'In League Harmony'.
Education
Winner: TAFE NSW Sydney Institute – 'Going Global'.
SBS People's Choice Award
Winner: 2MFM, Muslim Community Radio – 'Together Standing Against Extremism and Racism'.