Oatly turns to milk-carton puppets in new campaign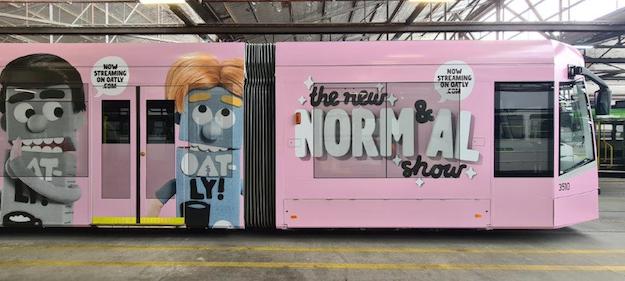 Oatly, the world's largest and first oat drink company, has produced a new ad campaign. The campaign is designed to inspire conversations around plant-based eating. At the core of the campaign is a video series called THE NEW NORM&AL SHOW. 
There are five episodes, ranging from two to five minutes. Viewers will meet Norm and Al (get it?), an odd couple of oat-drink-carton puppets who are trying to shift to a plant-based diet. 
Oatly is hoping to persuade new customers to give the more environmentally-friendly drink a chance. Although Oatly has been around for years, oat milk is still not the most recognized alternative to dairy. Customer education is one of the most difficult tasks for a company to undertake; it takes several impressions just to get a customer to remember your brand, much less get them to try it. And if it's a totally foreign concept to the consumer, it's even harder. The mini-series attempts to show audiences that you don't need to go fully vegan to make a difference. 
Michael Lee, Oatly's creative director, hopes the silly format will convince people to listen to their message. "After trying to help people eat more plant-based with super long Instagram posts, a dorky AFL Grand Final ad and nonsensical headlines, we've now landed on puppets to do the job," says Lee. 
"THE NEW NORM&AL helps us deliver a message that people might normally roll their eyes at, but because it's puppets, well, who doesn't like puppets?"
The video series features top talent on both sides of the camera. Annie-nominated director Connor Finnegan is working with renowned puppet-maker Andy Gent (whose work you can see in Wes Anderson's Isle of Dogs) to create the series. The character Norm and Al are voiced by Alexander Perkins (The Office) and Ethan Lawrence (After Life) respectively. Rob Whitcomb (Transformers: The Last Knight) voices Milk. 
The spot:
All five episodes of the mini-series are available on YouTube and Oatly.com.au. In addition to the video series, Norm and Al can also be seen across OOH on Melbourne's trams and buses until 10 April 2022. The campaign will also be featured in 90 percent of Woolworths across the country.
Oatly has also partnered with MILKRUN in Sydney. Each order on the app will be provided with a free carton of Oatly Barista Edition. 
Feeling particularly brave? You may also get a free oat coffee sample if you say "I like puppets" when ordering coffee xat one of 35 participating cafes around Australia. 
If you want the free sample, you'll have to just go around to all your favourite cafes muttering like a maniac about how much you love puppets until you finally find someone who gets you. I could tell you which cafes are involved, but where's the fun in that?