Online ad spend clocks double-digit growth
While TV continues to attract the majority of advertising dollars, online experienced by far the highest growth, cracking double digit gains globally for the first quarter of 2012.
During a quarter which saw overall ad spend grow by 3.1% year on year, advertisers spent 12.1% more on internet ads than the same time last year, according to Nielsen's quarterly 'Global AdView Pulse' report.
TV, newspapers, radio, outdoor, internet and cinema all saw an increase in ad spend in the beginning of 2012 compared to last year, however the pattern across different markets and channels varies greatly as media types show differing stages of maturity by location.
Neilsen previously released overall findings several weeks ago, focussing on the breakdown by region. Generally, spend in Asia Pacific, North America and Europe was either weak or declining for the first quarter, with figures buoyed by strong performance in emerging markets.
Global head of advertiser solutions at Nielsen, Randall Beard, says advertisers continue to recognise the potential of emerging markets like Latin America and Africa as they look to reach new customers. "These markets have proven their resilience through the down economy, and many consumers now wield spending power like never before," says Beard.
At overall global levels, radio and outdoor were the next strongest performers after online, jumping 7.9% and 6.4% respectively, while magazines was the worst performer, dropping 1.4%. TV grew by 2.8%, newspapers by 3.1% and cinema by 4.1%.
In the Asia Pacific region, TV ad spend was the only one to drop, falling by 0.6%. Cinema (+27.1%) and outdoor (+21.1%) actually outperformed online, which only grew by 4.4% for the region. Newspapers grew by 5.4% while magazines also grew, up 3.6%.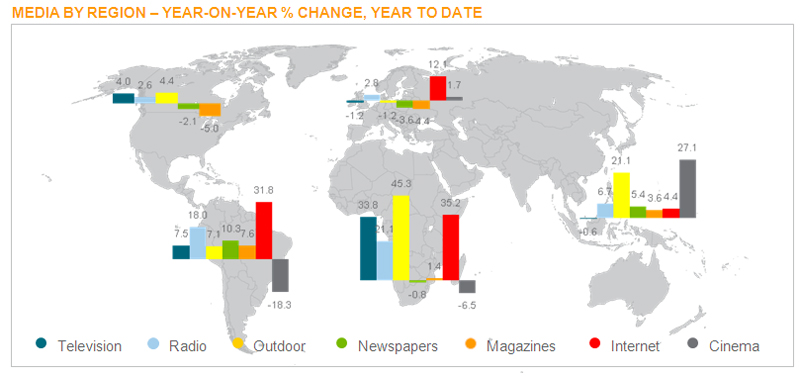 In the Middle East and Africa, TV ad spend grew a whopping 33.8%, while the US and Europe did not perform as favourably – the US up by 4.0% and Europe down 1.2%.
North America saw nominal declines in print ad spend, while Latin America jumped 10.3% for newspapers and 7.6% for magazines.
Radio saw increases in every region around the globe, including a 2.6% increase in North America and 2.8% in Europe. In the emerging markets increases were much higher – 18% in Latin America and 21.1% in the Middle East and Africa.
High growth for cinema in Asia Pacific but was offset by declines seen in Latin America and the Middle East and Africa.
Outdoor ad spend saw increases across the board apart from Europe which declined 1.2%. The gains included a 4.4% rise in North America, 45.3% jump in the Middle East and Africa and 21.1% in Asia Pacific.
Online ad spend was a bright spot for the industry, with growth around the globe. Most notably Europe rose 12.1%, Latin America by 31.8% and the Middle East and Africa by 35.2%.