Virgin Australia rebrand delivers global best airline and service gongs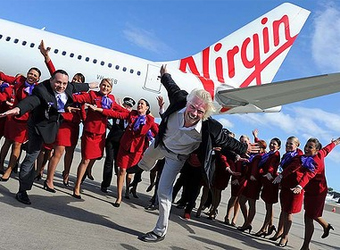 Virgin Australia has topped the customer service stakes at the 2012 Skytrax World Airline Awards, winning 'best staff service' for Asia Pacific, as well as picking up the coveted 'best airline' award.
Held in London overnight, the awards honoured the airline for its agility in beating established legacy carriers to the award and for product and service that "clearly impressed passengers". Skytrax chairman and CEO, Edward Plaisted said securing the best airline and customer service awards saw the young airline snatch victory from more established carriers that have previously taken the top prizes.
Virgin Australia's group executive of brand and customer experience, Mark Hassell, put the win down in part to the airline's recent branding refresh and repositioning. "Over the past eighteen months, we have introduced a range of new product and service initiatives designed to enhance the travel experience and we are pleased that they are making a real difference for our guests", Hassell said.
The World Airline Awards are decided on by airline passengers from around the world, who judge their end-to-end airline experience in a voluntary survey. This year, the survey was carried out over a 10-month period, included over 200 domestic and international airlines and canvassed the opinions of over 18 million airline passengers.