Online banking overtaking branch visits in NZ
Media and retail are not the only sectors experiencing dramatic shifts at the hands of online business. The internet is also transforming customer interaction in the financial services sector, with online interactions now more frequent than visits to a branch in Australia and heading that way in New Zealand.
According to Roy Morgan data, New Zealand is catching up to Australian consumers in terms of online banking, with solid growth over the last ten years (up 33.1% to 45.1%), at the expense branch visits (down 9.6% to 52.3%) and phone banking (down 16.6% to 23.7%). In Australia, more people used online banking in the past four weeks than visited a branch.
The ATM remains the most frequently used banking channel in each country – 77% of Australians and 67% of New Zealanders visited an ATM in the past four weeks.
Finance industry director at Roy Morgan Research, Suela Qemal, says the implication for financial institutions is a weakening of traditional relationships and loyalty, making it easier for people to switch banks or split their banking across a number of institutions.
"The popularity and convenience of the internet continue to drive customers towards online banking and away from traditional staff-based services of phone banking and the standard walk-in branch visit," Qemal says.
"This shift has significant implications from the reduction in person-to-person communication which erodes the key relationship and loyalty between a customer and their bank at a time when bank competition has never been so prominent."
Looking at the graphs below, the uptake of online banking appears to be mainly at the expense of phone banking.
Banking channel used (past 4 weeks) – New Zealand (Dec 2011)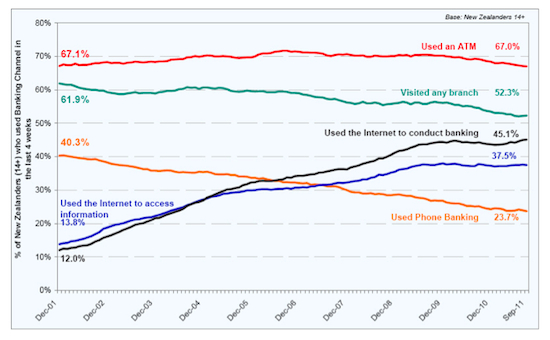 And for Australian banking customers, online banking overtook branch visits a year ago.
Banking channel used (past 4 weeks) – Australia (Dec 2010)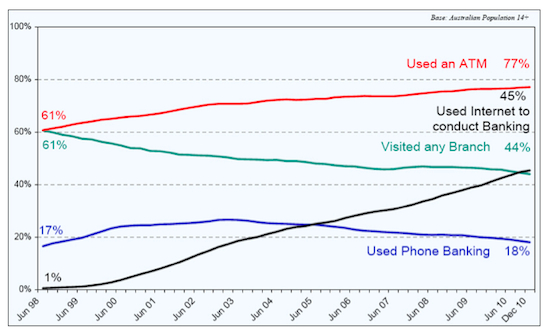 The research concludes that the trend towards online looks set to continue, with consumers having 24 hour access to online banking from their computers, mobile phones and other wireless devices, and a general move towards an 'online lifestyle'.
In Australia, online banking surpassed branch visitation in frequency for the first time in December 2010.