Online retargeting in travel brand's integrated campaign
Campaign: Travel your way
Client: Zuji Travel
Agency: Cadreon, The Hallway
Technology: MediaMind
Background
Zuji is among the big four online travel sites consumers turn to, sitting after Expedia and Flight Centre and a little ahead of Webjet. Potential tourists view around 60 million pages a month on Zuji's online travel sites in Australia, New Zealand, Hong Kong, India and Singapore. These numbers reflect the success of Zuji's ongoing TV, print, outdoor, display and search advertising, but healthy visitor numbers do not always mean a healthy bottom line, particularly in online travel where consumer brand loyalty is low and consumers flit between sites searching for the best deal.
In 2010, despite its heavy visitor traffic, Zuji was struggling to maintain momentum and was losing market share to competitors. Flight Centre in particular was competing heavily on price, as it worked to grow its market share as a latecomer to the online space.
One problem the travel retailer needed to address was Zuji's restrictive search engine technology that inhibited browsers from easily designing their own travel packages.
The other was Zuji's marketing approach itself. Like most online retailers, Zuji depended on reach and frequency marketing techniques, including TV, print, outdoor and digital display and search advertising to spruik the best deals. This works well to attract large site visitor numbers, but relies too much on a natural conversion rate to turn a profit.
Zuji needed a more effective system to convert the visitors it was already attracting.
A possible answer lay in emerging digital technologies. These technologies could, firstly, improve Zuji's travel search engine capabilities and secondly, and more powerfully, Zuji could use data optimisation techniques, still rare in Australia and the world, to discover its customers' travel intentions in order to serve personalised ads once those customers left the Zuji site.
Moreover, because such a system would be automated, and remove the traditional middlemen, advertising, design and marketing processes that cause delays in getting fares to market, it would give Zuji a competitive advantage in publishing the best new prices directly to the customers interested in them.
Objectives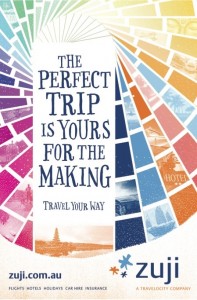 In early 2011, the objective was twofold:
to position Zuji as the only online travel retailer in Australia to provide travellers with more choice and technology to easily and cost effectively take charge of their own travel bookings, and
to deliver the most advanced targeted and immediate travel offers in the history of Australian travel.
It was a tall order. To deliver its first broad marketing objective, Zuji worked with Sydney-based creative agency, The Hallway. The Hallway created the new 'Travel Your Way' campaign, running the emotive tagline, 'With Zuji, the perfect trip is yours for the making'. The campaign focus was about putting power back into the hands of the individual traveller.
This laid the ground for Zuji to roll out data optimisation technologies to deliver personalised banner and display ads to help browsers plan their next holiday.
To make this dream reality, Zuji worked with marketing agency Cadreon, and MediaMind, the global digital advertising technology company.
But the brief was complex. Zuji essentially wanted a system to share sale fares relevant to an individual's known holiday intent through an automated process that feeds best prices into existing online banner placements, 24/7.
MediaMind's platform needed to sync with Zuji's live travel database, linked to thousands of independent travel providers, so it could automatically search and pull new travel deals into Zuji's creative banner and display templates.
But first the system needed to capture site visitors' basic searches on Zuji, to later serve them highly targeted, relevant digital ads based on their known travel intentions even after they left the site. Using geo-targeting, the system could also pick up the person's location and serve only travel deals departing from their nearest airport.
If the system worked, once customers share their preferences with Zuji, they might be browsing almost any website in Australia and, rather than seeing a generic price offer, they will receive personalised banner adverts specific to their individual interests.
Strategy

Working with its agency partners, Zuji opted to continue with the marketing channels it had used previously, which included:
TV, outdoor and print running in all major metropolitan cities, and
digital advertising using banner, display and search.
Additionally, social media was also introduced with an intensive Tweet campaign and PR to publicise Zuji's new 'Travel Your Way' campaign and approach.
What was changing for Zuji was not so much its marketing channels, but its underlying market positioning. Zuji was nudging away from the mass market approach of its competitors to set itself up as the only large-scale travel shop to offer a truly personalised service.
Its target audience was the slightly older gen Ys and gen Xs with higher disposable income, who appreciate technology and the choices it offers.
Execution
Zuji rolled out its campaign in two phases:
Phase 1: in May 2011, the 'Travel Your Way' ad campaign hit TV screens, newspapers and billboards nationwide asking Australians to consider a new way of booking their travel.
Phase 2: two months later, Zuji began using the MediaMind platform to successfully identify visitors' flight or holiday intentions to deliver personalised ads almost wherever they went on the web.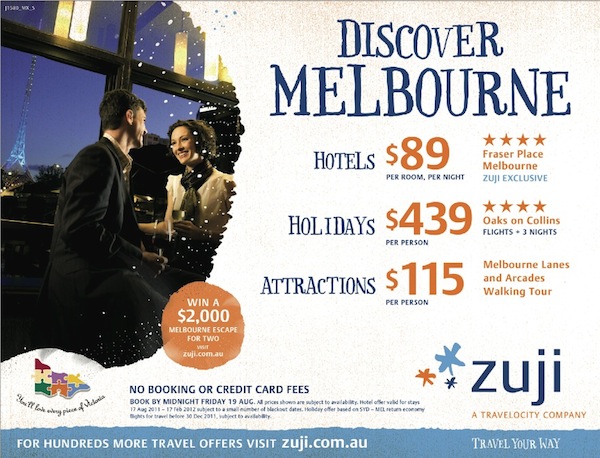 Results
Six months after launch, the campaign hit or exceeded all its KPIs for CPA (cost per action), reach and frequency. In fact, it is the first time in Zuji's history that a display campaign has been profitable.
Campaign results included:
site visitors up 40% three months after the campaign,
bookings up 100% on the same time in 2010,
CTR (click-through rate) up 300%: display CTR went from 0.04% (July 2011) to just under 0.12% (December 2011),
basket value rose 25%: order value is approximately 25% higher than the average for display,
low CPA: the campaign maintains a low CPA thanks to its lower burn rate in terms of overall impressions served, and
a better customer experience: customers are served relevant, intent-based creative that is actually helpful in travel planning.
Moving forward, Zuji plans to work with Cadreon and MediaMind to go beyond its dynamic pricing display ads to introduce more rich media content like video, as well as engagement-driven content using embedded search panels. It will also expand into other digital platforms, including mobile and tablets, all the while continuing with its offline marketing activity.