oOh! launches consolidated airport offering after acquiring Eye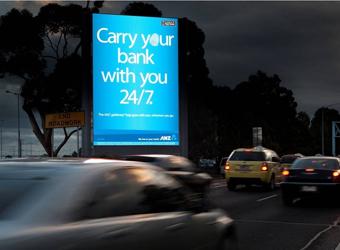 oOh!media, following its recent acquisition of Eye Corp, launched its consolidated digital airport media offering last night at Sydney's Qantas domestic airport terminal.
The new digital airport offering is part of an $11 million investment in Qantas terminals in Sydney, Melbourne, Brisbane and Perth.
oOh!'s fleet of airport signage features high-definition digital roadside billboards, and digital and back-lit advertising within terminals, including installations near Qantas Club, valet parking and baggage carousels.
CEO of oOh!, Brendon Cook, told industry representatives the offering affords greater flexibility to advertisers. "Advertisers will easily be able to schedule different messages on digital inventory by day part, day of week and specific airport precincts to around 30 million travellers."
oOh!'s partnership with Qantas is focused very much on premium business and leisure travelers. "All travellers – be they business or leisure flyers – are time poor, but the dwell time inside the terminal provides a unique opportunity to interact with them and influence their decisions," Cook added.
The acquisition of Eye positions oOh! as Australia's largest provider of airport media throughout Australia.