Optus found to be 'misleading' by Victorian Supreme Court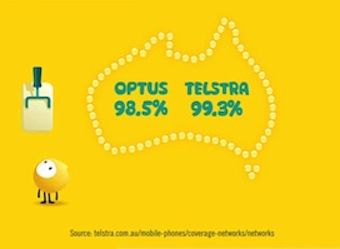 Telstra has won a court bttle against Optus, with the Victorian Supreme Court finding finding the telco's advertising was "likely to mislead or deceive".  Telstra put took the fellow telco to the Victoria Supreme Court over Optus' recent campaign promoting its 4G network coverage, which claimed there was "less than 1%" difference.
The Optus ad technically was referring to its population coverage, however Telstra made the case that the use of a visual map of Australia with the respective percentage figures would lead consumers to believe Optus was referring to geographic coverage.
The court will now get submissions from both parties to determine what compensation is required.
Both companies have released statements regarding the issue:
Telstra said:
"Telstra welcomes today's ruling by the Supreme Court, it's a win for consumers. Optus has been caught out misleading Australians by implying their geographic network coverage is similar to Telstra's.
"We're upfront about the extent of our network coverage because we know it's an important consideration for anyone choosing a mobile plan.

"Telstra offers 2.3 million square kilometres of coverage. And when it comes to data, Telstra's customers also enjoy four times the 4G coverage area of any telco network.

"As of 21 November 2013 Optus said it provided over 1 million square kilometres of coverage. That's less than half the geographic coverage provided by Telstra.

"Curiously Optus has since removed information about its geographic coverage from its consumer web pages. Geographic coverage matters to Australians – after all we don't spend our lives at home. It's time for Optus to be upfront about the geographic coverage it offers."
David Epstein, vice president of corporate and regulatory affairs at Optus, said:
"While we're disappointed in the court's ruling, Optus remains committed to the strength of our network.

"We have been consistent and transparent in how we communicate the less than 1% difference in the population reach of the Optus mobile network compared to Telstra's, and these clear facts have not been in dispute.

"Today's battle has been about how you portray network reach, but what Telstra is really afraid of is a discussion on price."