Native Advertising Demystified Part 1: the native ad products of Australian publishers
This is the first in a three-part series on demystifying native advertising for Australian marketers. Chris Byrne investigates:
The native ad products of Australian publishers (you are here)
Measuring native: Is it working? (link)
The keys to native ad success (coming soon)
Native advertising is the new kid on the block in the bid to monetise online publishing. Its premise is simple – quality content-based ads that mimic a platform's natural form – but not completely new. An evolution of the advertorial, its newfound buzz status comes as publishers realise putting the user first is both beneficial to their audience as well as their ability to sell effective advertising.
The reason it's taken publishers so long to prioritise user experiences of advertising, like social and search giants have done for years with sponsored ad units, is addiction, according to global revenue officer at BuzzFeed, Andy Wieldin. "Once you get addicted to banner revenue, even if it's going down, you're like, 'Oh my God, I need it'. When BuzzFeed started we drew a line in the sand and said, 'Okay, banners stink. It doesn't work for our site; it doesn't work for our users. We've got to come up with something better'."
Already a product offered by most publishers in the US – 73% were on board and a further 17% considering it according to eMarketer data from June – the Australian market has been slow to start. But native is now rapidly gaining acceptance in the market, according to Tim Duggan, content director at youth publisher Sound Alliance, one of the first to proactively push native in Australia. "When we first started with native a year ago, no one had heard of it," says Duggan, who oversees titles such as FasterLouder, inthemix and Junkee. "When the big publishers started bringing out their offers it started to change… most people have heard of it and most brands are eager to try."
Sound Alliance has worked with a mix of clients – numerous alcohol brands, as well as organisations trying to connect with the youth audience, such as HCF, Officeworks and the NSW Government. Duggan stresses the importance of delivering the content 'in-stream', with the same appearance and placement across the platform as any other story.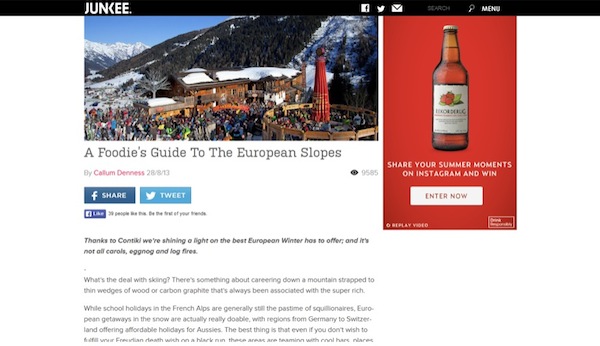 Fairfax takes a different approach, placing story preview units on the homepage and anywhere else story previews would traditionally appear, but using a "focussed" template for the content. Labelled 'Brand Discover' for readers, the template is a single-column layout without sidebars and interspaced by ad units which can be filled by display ads, video assets, sign-up forms, games or other placements. The publisher has worked with three brands on native campaigns, including Zurich and CommBank, since launching its offer around five months ago, digital ad development director, Tereza Alexandratos revealed to Marketing.
Rival big publisher News Corp made a foray into the space in November, with a piece promoting the Gold Coast's theme parks on News.com.au. In delivery style, it fits with the approach taken by most publishers. However, in production style News differs, using its existing team to create the content while most other publishers build a separate team of contributors to collaborate with brands. "We know what our consumers want to read which is why all of our native content is originated by the news.com.au team to deliver best results for our readers and our clients," general manager of News.com.au, Julian Delany, says.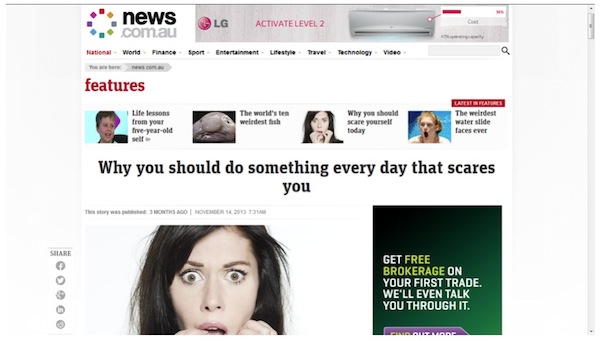 BuzzFeed, which launched its Australian site in February and has turned its back completely on display ads in favour of native, employs a separate "creative" team to develop sponsored content. Speaking at an IAB event on the day of the local site's launch, Wiedlin poured cold water on the market's reliance on display ads, saying the days of interruption are gone. "People hate banners, their performance is going down… consumers are completely and totally in charge. You have to respect them and create great advertising that's in the stream if you're to have any chance success."
He added native, or 'social' advertising, has the ability to do much more than display ever could. "We found social advertising is more like TV advertising, and less like display advertising because you've got a big palette and you can tell a story. You can involve people emotionally and you can have a heart. Think of it as a gift to tell a brand story that's relevant, not one to spam people with banner ads."
Many others, such as Mamamia and the army of sites that sit in the lucrative women's market, also offer native ads. Digital innovator and new player in the local market, Guardian Australia, prefers longer-term partnerships with brands on native 'products' to selling sponsored editorial, according to the publisher's commercial director, Duncan Arthur. In December, it partnered with NRMA on content and sponsorship on its data blog, and has partnered with a telco in the UK on its Witness product and Brand USA on its interactive twitter tool. More native product offers will emerge in 2014, according to Kevin Gentzel, chief revenue officer of The Washington Post. Defined as collaborations between news, technology and advertising that take content marketing beyond text, images and video, these are another iteration of the native concept.
Currently it appears publishers with niche titles, or titles that use props like humour or general interest rather than news value or opinion to graft audiences, are further advanced with their native offers in Australia. Marketing understands costs range from $15,000-$35,000 for a series (usually four pieces) with smaller publishers to up to $150,000 among the large publishers.
With revenue from native advertising forecast to explode in 2014, marketers can expect to see publishers refine their offers and become more adept at finding the sweet spot between reader and brand.
In Part Two: With many Australian marketers having trialled native in the past six months, the next instalment in our native advertising mini-series will look at how well its working and how it's being measured. Read Part Two here »
Tweet the author: @penseive