Pepsi to 'drinkify' snacks to grow beverage business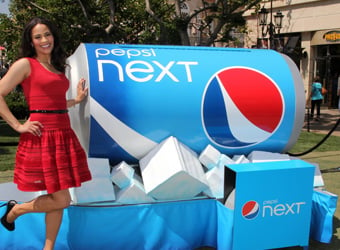 Pepsi will 'drinkify' some of its snack brands in an effort to kickstart sluggish beverage sales. The food and beverage group plans to extend a number of its well-known snack brands into liquid variants, according to the Financial Times.
"A way to grow the beverage business is to take foods and drinkify them," the company's chief executive, Indra Nooyi, said at a recent industry conference.
"There's a whole range of products we have in the pipeline that are value-added products that can be snacks made into beverages," Nooyi added, declining to name the brands involved.
PepsiCo, which missed earnings forecasts and lost ground to Coca-Cola in recent years, has been working to boost its beverage business as part of the corporate 'reset' unveiled nearly a year ago. The company plans to invest an additional $500m to $600m in marketing and advertising this year.
The company began developing liquid variants of snack brands earlier this year in developing markets, with a drinkable oatmeal sold in Brazil and its line of Naked juice drinks which are enhanced with vitamins and protein.
"The fact that PepsiCo is a food and beverage company gives us a more holistic view of the consumer, what foods they eat, what do they like to drink, what parts of what they eat are they willing to drinkify," Nooyi said in response to calls to split up the food and beverage divisions into separate businesses.
"When you have a secular trend and consumer fatigue with a category, I think it's a great opportunity to reinvent that category."
The firm is also set to sweeten its Diet Pepsi product using a new sweetener ahead of heavy promotion of the product.
Last week, it announced a $50 million deal with Beyonce Knowles, which will include TV spots and print ads, and free-reign for Knowles to create Pepsi-branded and non-branded digital experiences and offline events like photo shoots in the name of the brand.