Pitt 'embarrassingly awful' as Chanel No. 5's first male face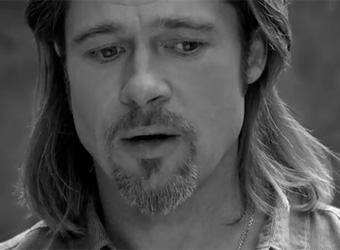 A new commercial for French perfume Chanel No. 5 starring actor Brad Pitt has been widely panned, with commentators calling it "embarrassingly awful" and "total nonsense".
The thirty second commercial, shot in black and white by filmmaker Joe Wright, marks the first time a man has fronted the iconic female fragrance's advertising campaigns, which have featured the likes Nicole Kidman, Marilyn Monroe and Lauren Hutton.
In the ad, Pitt recites vague words, looks wistfully off into the distance and appears to have just crawled out of a bar sporting unkempt hair, scruffy shirt and salt and pepper goatee.
"It's not a journey," the celebrated actor muses. "Every journey ends, but we go on. The world turns and we turn with it. Plans disappear. Dreams take over. But wherever I go, there you are – my luck, my fate, my fortune. Chanel No. 5. Inevitable."
The spot has been panned by many media commentators, with Adweek describing it as "total nonsense" and an "awkward head scratcher", and The Huffington Post labelling it "embarrassingly awful".
YouTube critiques range from "hilarious" and "pretentious" to "completely beautiful" and "OMG can everybody just STFU and enjoy Brad Pitt! Ugh he's perfection."
Pitt was reportedly paid $7 million for the gig, to bring "the perspective of a man on the most feminine fragrance of all time."
"It is the first time we've had a man speaking about a women's fragrance," fragrance and beauty president at Chanel, Andrea d'Avack, told Women's Wear Daily. "We think very much that the perfume is a seduction between a man, a woman and the perfume. To keep a legend fresh, you always have to change its point of view."