Airline customer satisfaction: Tiger stages dramatic turnaround, Qantas flounders
Tiger Airways has staged a dramatic turnaround in customer satisfaction levels, while Qantas has been unable to reverse the damage sustained during the grounding of its fleet in October last year.
Customer satisfaction with Tiger rebounded from below 40% in June this year to 64.6% in September, representing a dramatic turnaround for the airline, according to Roy Morgan Research. Its satisfaction levels now sit just below low-cost carrier competitor Jetstar which boasts 65.7% satisfaction among customers.
Meantime, Virgin Australia has the highest levels of satisfaction, with 84.7% of its customers satisfied with the airline's services. Virgin has ranked ahead of Qantas most months since the industrial dispute which forced Qantas' grounding, adversely affecting 80,000 passengers.
The data, collected in Roy Morgan's Single Source quarterly sample of 1896 Australians, shows Qantas floundering at 80.2%. The airline, which dominated customer satisfaction for much of 2011, has been unable to regain the satisfaction scores in the mid to high 80s that it enjoyed prior to the grounding.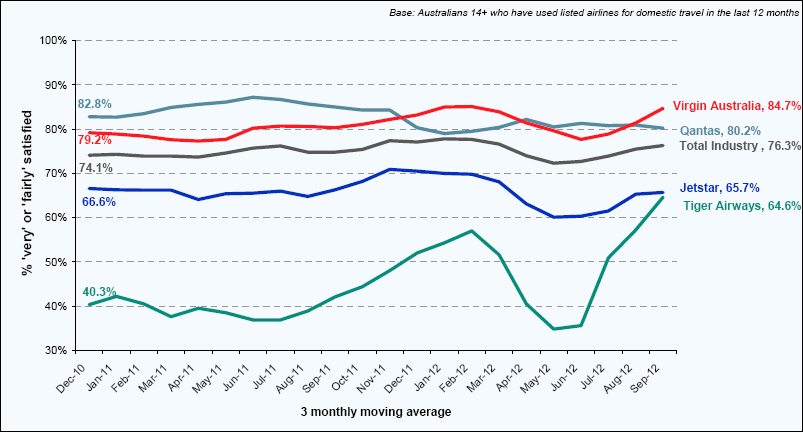 Jane Ianniello, international director of Roy Morgan's travel and leisure division, says Virgin Australia enjoyed strong growth in domestic customer satisfaction in the September quarter despite the cancellation flights in August and September to maintain its load factors.
"In addition to capitalising on the Qantas industrial dispute in October 2011, Virgin Australia also launched its new brand in mid-2011 and its new business class in 2012.
"The challenge for Qantas is to understand their loyal customers and the factors that impact on their satisfaction, particularly the lucrative business traveller market," Ianniello says.