Pollies paying up big for TV ad space, leaving radio in the lurch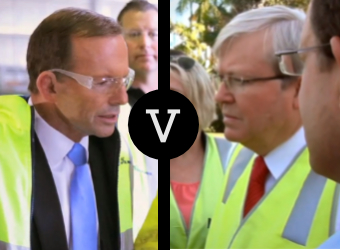 TV is by far the favoured medium when it comes to this year's election campaign, with 93% of the ALP's ad spend and 96% of the Liberal Party's ad spend going towards television advertising, but very little use has been made of radio as an advertising channel by either major party.
So far the ALP has clocked up a $1.64 million bill on TV spots while the Liberals are not far behind, spending $1.48 million.
The Liberal Party's 'Our Plan' TV commercial, has been its most expensive TVC and was shown 523 times in the state capitals and has so far cost a reported $660,000. The party's second-biggest campaign to date was the 'Trail of Disaster' TV attack ad, with a spend of $450,000 on 373 ad spots, according to The Australian.
The Australian also reports the ALP spent $535,000 to broadcast its 'If Tony Abbott Wins, You Lose' campaign with 345 spots aired so far. It also spent $340,000 on its positive 'A New Way' ad, with 139 spots aired.
Sydney has so far received the majority of ad spend, accounting for 31% of total metropolitan political ad activity and 48% of the total spending. Labor had spent about $750,000 in Sydney so far compared to the Liberals $746,000. Melbourne, by contrast, has seen just 18% of ad activity and 23% of spending.
Labor has also spent $75,000 on print ads to the Liberal Party's $54,000. But while the TV networks look set to profit off this intense federal election, spare a thought for those in radio land who have received a measly $39,000 from the Labor Party and almost zero from the Liberals, have recorded little or no usage of the medium.