Print slides again, but media chiefs claim audience has never been higher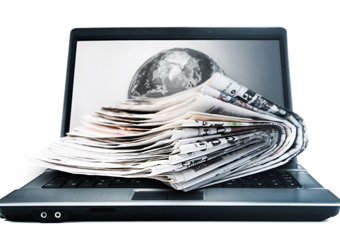 Newspaper readership declined further in the first three months of 2012, as publishers look to multi-platform strategies that maximise digital revenues and rationalise print edition circulation in response to the structural change affecting the industry.
But while the readership and circulation data from Roy Morgan and the Australian Bureau of Circulations (ABC) augured badly for print's future, for some mastheads the news wasn't all bad, with overall increases in readership numbers recorded when print and digital was combined.
Australian consumers bought 18.5 million printed national, metropolitan and regional newspapers per week during the three months to March 31, 2012, a figure representing a year-on-year drop of 5.0% for Monday to Saturday newspaper sales. The decline appears to have accelerated since the previous quarter which recorded a year-on-year fall of 3.9%.
However, in addition to print readers, publication titles benefited from six million consumers who accessed national and metropolitan newspaper mastheads online in each month of the quarter. For some, including the Sydney Morning Herald and The Age, this meant an increased readership figure.
Whether the higher readership figure translated to an increase in overall combined sales, a metric released by the ABC for the first time under new rules, was unclear without the presence of figures from previous quarters to compare.
According to CEO of The Newspaper Works, Tony Hale, the print circulations numbers only tell part of the story with "robust, ongoing growth of audiences engaging with newspapers across online, mobile and tablet" impacting greatly on masteheads' overall readership levels.
With publishers looking to rationalise print circulation by circulation initiatives contributing to a planned reduction in print edition sales include lowering distribution through community event channels and reducing the number of sales counted through bundled, discounted or secondary means, the focus has well and truly turned to maximising digital.
"Further distribution via digital channels is being looked at by all Australian publishers," Hale adds. "Some may choose to further reduce unprofitable print sales as new business models emerge."
Over the current period, metropolitan masthead sales declined more than national masthead sales, with the former down 4.8% to 8.8 million for Monday to Friday, 5.4% to 2.2 million on Saturdays and 5.3% to 2.8 million on Sundays. National papers declined by 2.4% to 1.4 million, with Saturday sales declining more than weekday sales. Regional newspapers suffered the greatest circulation drop, down 6.5% to 3.2 million per week for Monday to Saturday sales.
Fairfax papers suffered greater losses than News Ltd over the period, both in the Audit Bureau's circulation figures, and Roy Morgan's Readership figures.
The Australian Financial Review fell 3.0% in circulation and 13.2% in readership for Monday to Friday, while the weekend edition dropped 11.8% in circulation and 4.3% in readership.
The Australian dropped 1.6% in circulation and 10% in readership for Monday to Friday, while the weekend edition fell 0.8% in circulation and 10.2% in readership.
The Sydney Morning Herald shed 13.6% in circulation and 11.5% for Monday to Friday, while the Saturday edition lost 13.8% in circulation and 5.0% of readers. For its digital editions, the masthead took in 36,816 in paid sales on Monday to Friday, resulting in a combined digital and print sales figure of 198,335. Saturday's combined figure totalled 310,410 readers, with 40,158 paying for digital editions.
The Daily Telegraph lost 0.8% of circulation and 7.8% of readers Monday to Friday, while the Saturday edition grew in circulation by 0.8% but lost 8.0% of readers.
The Sun-Herald shed 10.8% of circulation and 4.3% of readers. Paid digital editions were sold to 40,268 to give the masthead a combined paid circulation of 402,350.
The Sunday Telegraph dropped 1.4% of circulation and 7.1% of readers.
The Age lost 13.4% in circulation and 7.9% in readership on Monday to Fridays, while the Saturday edition declined 12.4% in circulation and 13.3% in readership. Digital sales of 9,311 on Monday to Friday took the overall masthead paid circulation to 170,005, while on Saturdays 9,369 bought digital editions, taking Saturday combined masthead sales to 245,597.
The Herald Sun fell 3.0% in circulation and 7.9% in readership on Monday to Friday, while Saturday's edition dropped 3.5% in readership and 9.9% in readership.
The Sunday Age dropped 8.6% in circulation and 9.5% in readership, while the digital edition sold 9,376 units to take total masthead sales to 210,650.
The Sunday Herald Sun dropped 5.0% in circulation and 14.0% of readership.
In Queensland, The Courier-Mail experienced greater declines on Saturday (-8.2% circulation) than Monday to Friday (-3.9% circulation), and The Sunday Mail dropped 6.4% in circulation.
South Australian and Western Australian metropolitan mastheads proved more resilient, with the Advertiser up 0.1% Monday to Friday and only experiencing a small drop for its weekend editions, and the West Australian down 1.8% on average across Mondays to Saturday.
Fairfax credits its decline to its focus on a more sustainable and profitable print edition circulation, involving renewed concentration on smaller but more engaged newspaper audiences, and a withdrawal of print from education channels, community events and free, bundled or discounted placements.
"We now manage our business on a multi-platform basis, and comprehensive audience measurement across all our platforms is critical to providing our stakeholders with a complete picture of the evolution of audience engagement with our major Metro Media brands," CEO of Fairfax Metro Media, Jack Matthews says.
Fairfax analysis reports continued growth combined digital and print audience numbers compared with the same period last year, with the number of readers consuming both the Sydney Morning Herald and smh.com.au increasing by 11%, and the number accessing The Age and theage.com.au increasing by 7%.
Not yet supporting the ABC's combined print and digital metric, CEO of News Ltd, Kim Williams, comments that News publications are also reaching more people than they have before. "Our key digital mastheads are visited by an unduplicated unique audience of 5.2 million Australians every month," Williams says.
"The Australian has around 40,000 digital subscribers in addition to its monthly unique audience of around one million visitors to its website.  We are encouraged by the take up of our current Herald Sun trial of digital subscriptions," Williams adds.
"The industry is moving towards a new measurement system and over time will include digital media consumption in its overall figures which will provide a more complete picture."