Pusha T buries McDonald's with fiery diss track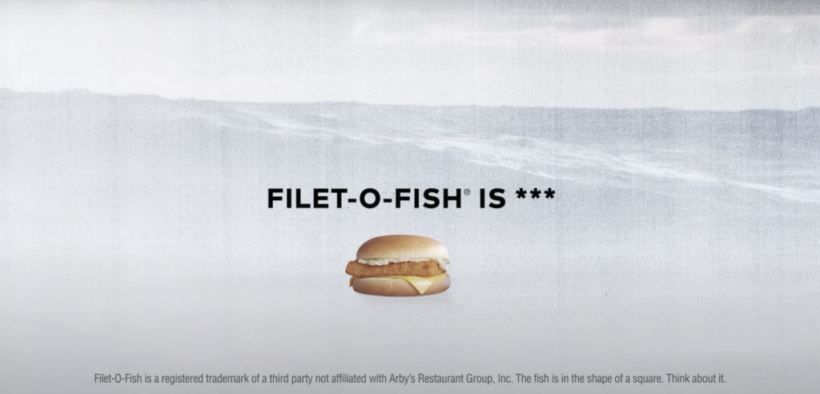 Pusha T has beef with McDonalds. Hey, Pusha T has beef with McDonalds. And it's with the Filet-o-Fish, no less. I am proud to bring this fact to your attention. 
It's true that we should probably all have beef with McDonald's "fish" sandwich. American rapper, Pusha T, has a particular (fish)bone to pick with the Clown. Apparently, Pusha T is at least partially responsible for the brand's famous "ba-da-ba-ba-ba" jingle. However, he only received a paltry million dollars (reportedly) for the beats. 
The gall! Could you imagine only being paid a million dollars for something that can't have taken more than five seconds? Pusha was happy with the payday back in 2003. However, time (and McDonald's billions of dollars of profit a year) has soured the relationship.
Unhappy with the world's biggest peddler of patties' apparent penny pinching, Pusha T approached Arby's to produce a pithy diss track, taking the piss out of Macca's dubious oceanic sandwich. Again, I'm completely serious. 
American fast food chain Arby's is a pretty popular competitor to Micky D's State-side. It's known for having funny, off-the-cuff and desperate-to-be-shared marketing. However, this takes the cake.
The thoughtfully composed lyrics feature several unequivocally true statements. Including when Pusha questions how McDonalds could ever expect customers to trust a "square fish". He opines that "drowned in tartar, that Filet-O-Fish is tasteless. The fast food chain is then accused of being "on a budget", apparent by skimping on ingredients. 
Pusha T also pitches viewers on Arby's own fish sandwich. Although similarly square, it can't conceivably be any worse than the object of his ire. 
Can it?
McDonalds has yet to respond to the diss track. Perhaps it's contacting a rapper to fire back (I hear Kanye is free). Or maybe it's busy laughing all the way to the bank, counting all the money that they should have paid Pusha T for his jingle. Rest assured that I will keep you abreast of any updates in this flame war. 
Are you still here?
Just dropped a diss track with @Arbys. Grab some popcorn and a Spicy Fish Sandwich. #ArbysSpicyFishDissTrack #ArbysPaidMeButIWouldSayThisAnyway pic.twitter.com/dzTuBlM9Ok

— King Push (@PUSHA_T) March 21, 2022
Maybe it probably goes without saying. All views expressed in this article are the opinion of Pusha T and do not necessarily (but might) reflect those of Marketing Mag.