Qantas and Swisse partner to bring Ellen Down Under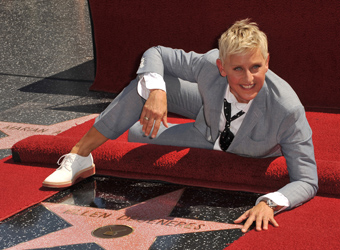 First Oprah visited our shores, and now Ellen will come Down Under in a deal brokered by Qantas and Swisse to bring the American comedian to Australia in March.
The visit was announced by DeGeneres and Swisse Wellness global ambassador Nicole Kidman in an episode of the comedian's self-titled show filmed today that will be watched by a global audience of more than 16 million people.
The Ellen DeGeneres Show will film numerous segments around Melbourne and Sydney in March that will air in April to around 60 countries around the world.
During the in-studio announcement in Los Angeles, the show's audience each received a free return flight on Qantas between the United States and Australia. Unlike when Oprah visited however, they will not be required to use their ticket to coincide with filming and will not be part of the segments filmed.
And also unlike Oprah's visit, Tourism Australia has not backed the deal. The rift between the national tourism body and Qantas appears to be still in place after Qantas suspended the pair's $50 million marketing deal in November last year over claims the tourism body's boss, Geoff Dixon, was involved in a consortium to takeover the airline.
CEO of the Qantas Group, Alan Joyce, says bringing the show to Australia was a fantastic opportunity to market the country to a massive worldwide audience. "This is a great coup for Australian tourism," Joyce says.
"The Ellen DeGeneres Show is one of the top-rating shows in the United States and screens in several key source tourism markets, making it a great platform to profile what Australia has to offer as a holiday destination.
"Ellen is a household name and her unique brand of fun and optimism is a perfect match for the relaxed Australian culture."
The United States is a key source market for visitors to Australia. The show also screens in other key source markets including the United Kingdom, New Zealand and Japan.
The announcement comes in the same week as Qantas' Spirit of Australia party in Los Angeles.