UBank in world first NFC social media campaign for Midsumma Festival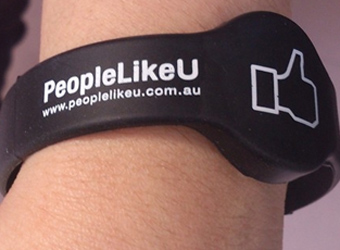 UBank will use Near Field Communications (NFC) technology in a social media campaign, in what it claims is a world first for a banking institution.
The bank, an arm of NAB, will use NFC chipped wristbands that create posts to participants' Facebook accounts each time they touch on at designated points around Melbourne's upcoming Midsumma Festival.
Upon entry to the festival, participants will be enticed to register for the campaign by the chance to win $5000 and an assortment of other prizes. Entrants will be given a wristband which they can then use to touch on at seven designated points, or with seven roaming attendants, each representing a colour of the rainbow.
Over 20,000 festival-goers of the queer culture festival will be able to enter, as can people who register through the festival's UBank Facebook app from home.
The campaign will promote UBank's 'PeopleLikeU', a tool which finds spending trends among consumers similar to the searcher and compares it to the nation's spending habits to help people visualise how they're spending.
A fact from the tool's database, such as "Melburnians spend 10% more on fashion than Sydneysiders,  but 20% less on the arts", will be shared on participants' Facebook walls each time they check in.
The campaign is an attempt to bring UBank's sponsorship of the event to life, according to cofounder of the social media agency behind the campaign, Troy Townsend from Tiger Pistol.
"The big thing for UBank was that they were trying to bring social into one of their sponsored events; so how do they actually leverage their sponsorship of Midsumma to increase likes and engagement on their Facebook page."
NFC was chosen to get into an innovation space and to make participating easier, Townsend adds. "Instead of just being a one-on-one interaction you only have to connect it once to have that sort [check in on Facebook] of interaction. It's easier for the consumer and they get something that they can reuse – a wristband that they may use again around the event."