Nissan trials scent branding: smells modern, oriental, with a hint of green tea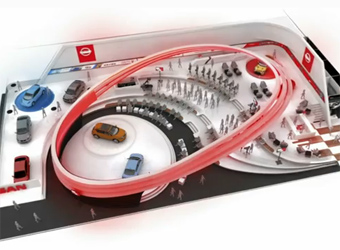 The scent of Nissan will be modern and oriental with a hint of green tea, as the automaker trials scented branding in an upcoming motor show ahead of plans to introduce scents across its experience.
Nissan contracted the services of Australian perfumers Air Aroma to develop the scent which will debut at the North American International Auto Show in Detroit on 14 January.
The move follows forays into scented branding on the part of a number of high-profile luxury hotels and retailers, on the premise that stimulating all senses can enhance the customer experience.
"When we were working on our new motor show design, we went back to what do people experience and we went back to all the senses," Roel de Vries, vice president, global marketing strategy at Nissan says.
"That's what other brands are doing, there are some very famous clothing brands and hotel chains where you walk into reception and you recognise the smell and it feels like coming home.
"Smell is an important part of it… If this works in the show we are planning to move this on to other areas where we do displays and maybe our dealerships."
Air Aroma was briefed to develop a 'modern, vibrant and exciting' fragrance that hinted at the company's Japanese roots. The scent chosen encompasses "a fresh, luxurious and oriental fragrance with hints of green tea notes". It's described as a delicate aroma that captures the essence of green tea scent during spring harvest to awaken and refresh the senses with the purity of green tea leaves.
The scent will be released using cold-air diffuser equipment at 10 other global auto shows around the world throughout 2013.
Other brands to have used scented branding include Langham Hotels, Hilton, InterContinental Hotels, General Motors, Qantas, Sofitel Hotels, Carnival Cruises, Fitness First, United Colors of Benetton and other retailers.
Watch Roel de Vries talk about the strategy: