Quick, easy and cost-effective: how SMS marketing is cutting through the clutter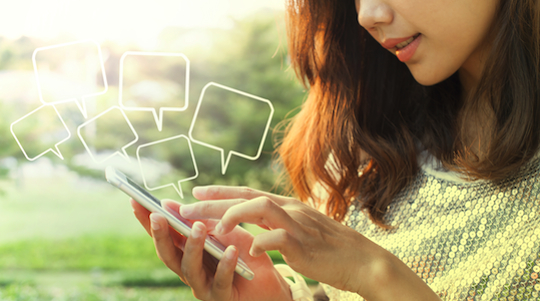 This article was produced by Marketing on behalf of Australian business SMS provider, Esendex. 
There is only one direct marketing medium that commands a 98% open rate within an average of five seconds – SMS.
Text messaging is quick, easy and requires limited resources, yet proves highly effective both on its own and as a supporting medium.
Comparing read rate statistics from Frost and Sullivan (2011), SMS emerges the clear winner at 98%, compared to email at 22%, Twitter at 29% and Facebook at 12%.
Sheer volume is one of the reasons people pay more attention to SMS; while we each receive more than 1200 emails per month, the average number of SMS messages received in the same time is only 178, according to Tatango.
With the average person looking at their phone 150 times a day (Nokia), SMS messages are read within five seconds of being received (Slicktext). This means marketers can be very specific about targeting individuals at the right place and time.
Perhaps you're a retailer and you know your customers are likely to be out shopping on a Saturday morning – you can target them with a special deal or product update via SMS.
Or maybe you're a service provider and you want to find the best way to ensure your customers don't forget their appointments – you can remind them just in time with SMS.
Getting your customers to take action tends to work better on SMS too – click-through rates for SMS are around 19% compared with 4.2% for email, according to TextBoard and Mailchimp.
Because SMS is still a largely untapped area, marketers are finding it a useful way to break through the clutter.
"SMS is great for supporting other mediums, as it can raise brand awareness and spike interest in reading an email that they may otherwise ignore and delete," says Mark Van Zuylekom, general manager of Australian business SMS provider Esendex.
When it comes to the logistics of your campaign, SMS requires very limited resources.
All you need is a simple message of 160 characters or less and a database of numbers to send it to. The fact that it's short makes you focus solely on the main point.
"There is no email to design or code, no landing page to create, no letter to post, no flyer to design or print," Van Zuylekom adds.
Here are three businesses who have found SMS to be an effective marketing tool.
Bicycle Superstore
SMS has been a great way for Bicycle Superstore to improve the number of customers regularly returning after purchase to get their bikes serviced.
Bike services are a big part of the Bicycle Superstore business model, so sending out an SMS reminding customers when they're due for a service has turned out to be a great tool to boost customer retention. The company also occasionally uses SMS to offer customers special deals.
"It's a really simple and effective method to communicate to our customers, and it's cost-effective," says Bicycle Superstore.
Anytime Fitness
Gym network Anytime Fitness uses SMS to improve uptake on promotional offers – the company has found it to be far more effective than printed posters and emails.
"We see the effect on the greater business by staff having time to complete their day to day activities without needing to worry about email responses," says Anytime Fitness.
"Our members have absolutely no issue in receiving our SMS messages and our opt outs are very low."
Guide Dogs Victoria
SMS is a great way to get in touch with donors to help Guide Dogs Victoria reach its fundraising goals. Much more efficient than emailing or phone calling, SMS has helped the organisation to contact more than 16,000 donors easily and efficiently.
Guide Dogs Victoria segments its SMS list so it can send campaigns to specific donors or to the whole list.
"The SMS donation has really allowed us to communicate more often and in a cheaper and quicker way," says Alex Cross of Guide Dogs Victoria.