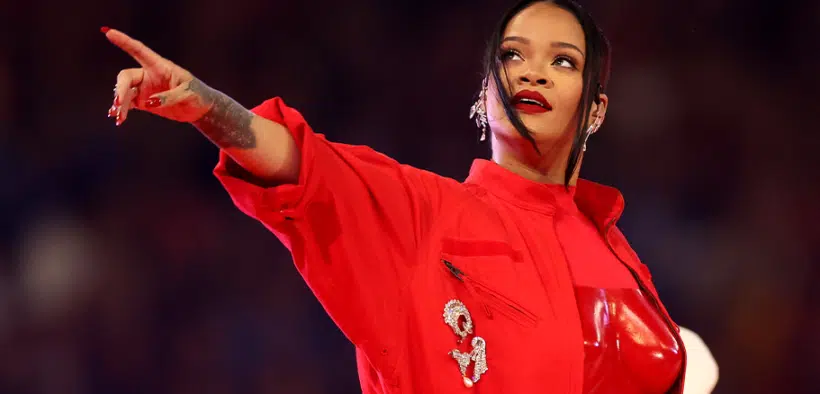 The day that every Rihanna fan has been waiting for – her iconic Super Bowl half-time performance rocked the world. 
Her 13-minute Super Bowl began with her iconic "B**ch better have my money" and quite frankly, "B**ch" is getting her money. As "All Of The Lights" began playing, Rihanna's backup dancer handed her a Fenty "invisimatte' product, the star quickly touched up her makeup before performing. 
As one of the greatest marketing plugs from a popstar, she showed off her new product, a Fenty Beauty blotting powder. Rihanna had the opportunity to show off her brand to millions of viewers in just three seconds. 
The ad reminded viewers of her success as a businesswoman, with Fenty Beauty creating a movement in the beauty industry that no celebrity has achieved. During the performance and after, the brand became a sensation on Google and social media trending worldwide. According to Launchmetrics, the performance gathered $5.6 million in earned media in the first 12 hours for Fenty Beauty, and $2.6 million for clothing business Savage x Fenty.
According to Fox Sports executive vice president of ad sales, Mark Evans announced that companies spend millions for a Super Bowl ad slot, with peak prices surpassing $7 million for a 30-second spot. 
However, it took four months for all the slots to sell-out, a slower pace than usual, Evans described this "As things have now settled down a bit and people feel better about the economic trajectory, a few of those units that were available picked up in earnest." 
Showcasing the blotting powder, Rihanna showcased her signature look, with red vibrant lips and nails, Rihanna reminded viewers that she is the brand. She matched her look with a baby bump-hugging look by Loewe and custom made coats by Pieter Mullier and completed the look with chunky MM6 Maison Margiela x Salomon trainers. 
Watch the iconic moment here:
View this post on Instagram